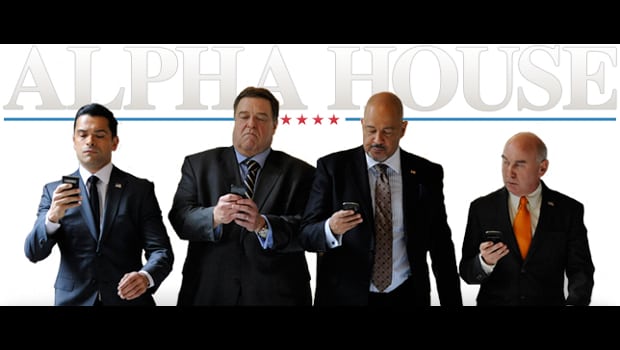 In mid-April, Amazon Studios launched the 2013 "Watch the Shows. Call the Shots." campaign in which viewers get to decide which pilot got picked up to series based on feedback and total views. This method differs from the traditional method in which executives at television networks such as ABC, CBS, NBC, FOX, The CW, etc., order a project, decide which gets a pilot order, and then from the available crop decide which of those pilots gets picked up to series.
It was recently announced that "Alpha House," starring John Goodman ("Roseanne," "Treme") and Mark Consuelos (ex-Mateo Santos, "All My Children"; "American Horror Story: Asylum"), had received a series order from Amazon. "Alpha House," written by Academy Award nominee and Pulitzer-Prize winner Garry Trudeau ("Doonesbury," "Tanner '88") tells the story of four United States senators who live together in a rented house in Washington DC as re-election battles and looming indictments head their way. Clark Johnson ("The Wire") and Matt Malloy ("Six Feet Under," "Law & Order") also star.
Preview the new series below, but if you want to see the full 25 minute pilot episode, click here.