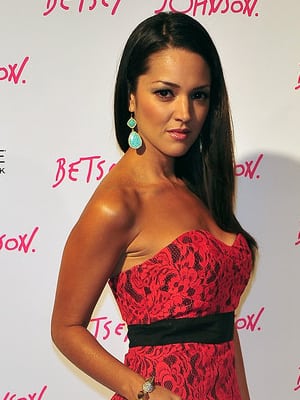 The OnLine Network has announced that Paula Garces (ex-Pilar Santos, "Guiding Light"), best known for her portrayal of Maria in the "Harold & Kumar" film franchise has joined the cast of the networks "All My Children."
Garces will portray the contract role of Lea Marquez, "a smart, savvy, beautiful woman who's devoted her life to a career of fighting crime and bringing down the bad guys.
Lea's career takes up most of her days and nights, which leaves little time for a personal life. That is until a man changes her safe, controlled existence and threatens to open up the part of her she'd long since put to rest: her heart."
In a bit of irony, Garces is co-starring with Susan Lucci (Erica Kane, "AMC") in the new Lifetime original series, "Devious Maids," which premieres Sunday, June 23 on Lifetime. Garces will portray Flora Hernandez, who is murdered in the pilot episode. Lucci portrays Genevieve Delatour in the series.
In addition "Harold & Kumar," Garces has appeared in such films as "Spin" and "Marci X." Her television credits include appearances in CBS "Elementary" and "CSI: Miami", NBC "Law & Order: Special Victims Unit" and three years as Officer Tina Hallon on FX's "The Shield."
"All My Children" premieres Monday, April 29 on Hulu, Hulu Plus and iTunes.