UPDATE 11:03 AM ET: In a statement released to Soap Opera Network, Jeff Kwatinetz, co-founder, Prospect Park, says, "Brian Frons and ABC cancelled the soaps. As the people trying to save them, why on earth would we ever work with him?!?!"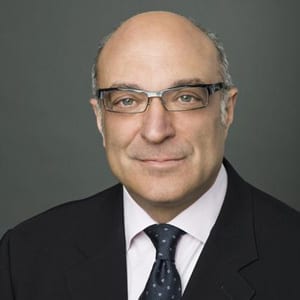 PREVIOUS: According to We Love Soaps, there are rumors floating around that Brian Scott Frons, former President, Daytime, Disney/ABC Television Group, may be secretly working with Prospect Park as it gets ready to re-launch "All My Children" and "One Life to Live," ironically, two soaps he himself cancelled two years prior.
Per his reported LinkedIn profile, Frons is "confidentially consulting in the following areas: channel feasibility and startup, development and positioning as well as all aspects of program strategy, program development, acquisition and scheduling."
While that does sound somewhat similar to someone working on helping Prospect Park with its efforts to return your favorite soaps to TV, online, etc., sources tell Soap Opera Network, "It's an interesting rumor, but Brian Frons is looking for a job. They [people close to Frons] are putting out rumors." Additionally, "Prospect Park is not looking to hire him at all nor have they met with Brian Frons. It's purely a whispering campaign."
In addition to his bio on his reported LinkedIn profile page, Frons' time at Disney/ABC Television Group is broken down as follows:
The Walt Disney Company
2002 – February 2012 (10 years)
-Spearheaded creation, production and delivery of all product for the division.
-Grew "The View" to one of the biggest shows in daytime television and used that success to re-engineer ABC Daytime as a Talk centric from a Soap Centric business.
-Created programming strategy that is informative and authentic, centering on transformation, food and lifestyle. This resulted in launch of "The Chew" co-hosted by celebrity chefs Mario Batali, Michael Symon and Carla Hall and entertaining expert Clinton Kelly and health and wellness enthusiast Daphne Oz.
-Partnered with ABC digital group to create simultaneous development and shows for the first time in ABC history.
-Returned ABC Television Daytime to No. 1 Spot during the first year and maintained No 1 Spot and maintained that spot for entire tenure.
-Garnered highest industry acclaim including multiple EMMY and GLAAD Awards as well as Gracie, NAACP, Gabriel and PRISM Awards.
-P&L responsibility exceeded $500 Million annually.
-Drove operating results at SOAPnet from Loss of $28 million to profit of $65 million over 5 year period.
-Reorganized the division by combining ABC Daytime and SOAPnet, and ABC Media Productions, and reprogrammed ABC Daytime resulting in saving of $20 million.
-Responsibility for over 1000 employees over 1200 hours of production produced, marketed and promoted.
-Reported to Anne Sweeney, Co-chair Disney Media Networks and President Disney/ABC Television Group.