After weeks of promos released on Hulu/Hulu Plus, iTunes and even YouTube highlighting the returns of the iconic soaps "All My Children" and "One Life to Live" in America, FX Canada has released its first promo for viewers north of the border as it was recently revealed the network would be carrying the soaps day and date when they premiere on Monday, April 29.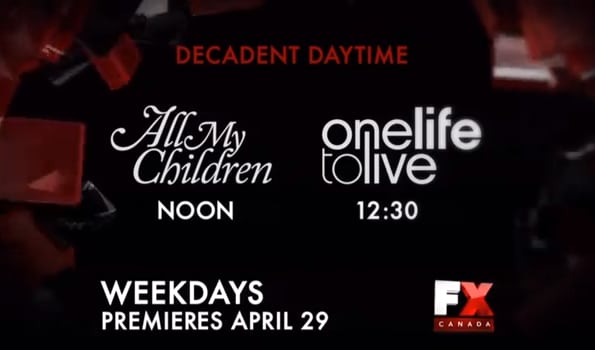 Presented as part of FX Canada's Decadent Daytime programming block, the "AMC" and "OLTL" promo comes across like film teaser would with an announcer stating, "they said it was over, but the fans wouldn't listen." Per FX, each soap promises fans "more drama, more thrills, passion, seduction, deception, love triangles, wedding crashers, funeral fights, comas, kidnappings, and more.
The Decadent Daytime programming block debuts at 12:00 PM ET/2:00 PM PT for "All My Children" and 12:30 PM ET/2:30 PM PT for "One Life to Live" on FX Canada.