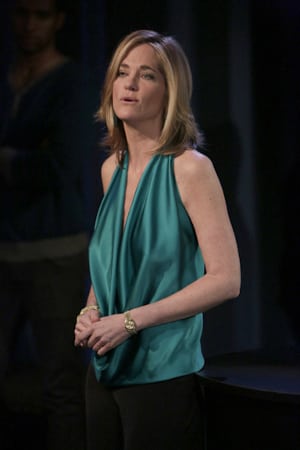 Soap Opera Network has learned exclusively that "One Life to Live's" Kassie DePaiva (Blair Manning) took to song yesterday during scenes filmed on the Stamford, CT set of the drama series as cast members were left in awe of the power in her voice. DePaiva sang her hit single, "No Regrets," from her 2004 CD of the same name.
In the emotional scene, Blair takes to song in her new nightclub, Shelter, after things hit a snag for the new establishment. Todd Manning (Roger Howarth) insists Blair entertain the crowd until things can be returned to normal. "No Regrets" features lyrics that are a subtle hint to Todd that Blair's not over him.
At the age of 18, Depaiva made her solo singing debut at the Grand Ole Opry in Nashville. After college, she got a job singing back up for music legend Bobby Womack. In addition to "No Regrets," the actress has released two other albums – "Naked" and "I Want To Love You."
"One Life to Live" premieres Monday, April 29 on Hulu, Hulu Plus and iTunes.