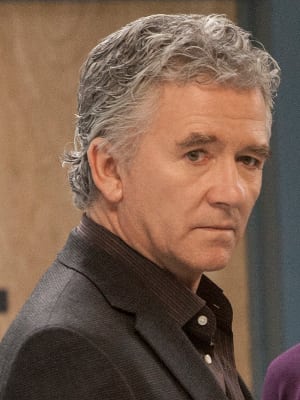 Time will tell whether or not the third season of TNT's revival of the classic soap, "Dallas" will be a charm, but that's no doubt what the network is hoping as it gears up to bring you a third installment of the popular soap opera!
According to Daily News America, series star Patrick Duffy (Bobby Ewing; ex-Stephen Logan, "The Bold and the Beautiful") says that despite its shaky ratings, TNT picked up the drama for yet another season, and fans have a funeral to thank for the big decision: Show icon Larry Hagman (J.R. Ewing) died last November, and the show's moving memorial episode attracted 3.6 million viewers, as opposed to its usual 2.6 million.
"A network like TNT and Warner Brothers look at the trend," says Duffy of the business behind the network's decision. "They are ecstatic with what 'Dallas' is doing, and as long as we continue that in the demographics of 18-40, we are their golden child."
What's more, the actor has a good feeling that the ratings will only improve during season three. "The summer is the perfect time on television cable," he explains, "Because none of the other networks are premiering anything."
via Press Release
TNT has renewed the hit drama series Dallas for a third season. Produced by Warner Horizon Television, Dallas centers on the Ewing clan, an enormously wealthy Texas family whose sibling rivalries, romantic betrayals, corruption and even murder are truly legendary. TNT has ordered 15 episodes for the third season, which is slated to launch in early 2014.

"Dallas has built a passionately loyal following with its expertly woven storylines, clever twists and turns, and numerous outstanding performances by a cast that spans generations," said Michael Wright, president, head of programming for TNT, TBS and Turner Classic Movies (TCM). "Although we said goodbye to Larry Hagman and his iconic character J.R. Ewing this year, Dallas has many more stories left to tell, and the Ewing clan will continue to honor J.R.'s memory by keeping its audience surprised and delighted."

TNT's Dallas stars Patrick Duffy as Bobby Ewing, who is now the senior member of the Ewing family following the death of his older brother, J.R. Ewing. Linda Gray stars as Sue Ellen Ewing, J.R.'s former wife and the mother of his son, John Ross, played by Josh Henderson. Jesse Metcalfe is Christopher, Bobby's adopted son, and Jordana Brewster is Elena Ramos, who grew up in the Ewing household and is now fighting for her own family's legacy. Julie Gonzalo is Pamela Rebecca Barnes, Christopher's ex-wife and the daughter of Cliff Barnes (Ken Kercheval), a longtime rival of the Ewings. Brenda Strong stars as Bobby's wife, Ann, while Mitch Pileggi stars as Harris Ryland, Ann's scheming ex-husband. The ensemble cast also includes Emma Bell as Emma Brown, a sheltered beauty whose father has taught her to distrust the world around her, and Kuno Becker as Drew Ramos, Elena's troubled brother who has recently returned to Southfork.

Dallas launched on TNT last summer and ranked as basic cable's #1 new drama of 2012 with key adult demos. In its second season, Dallas has averaged 3.8 million viewers in Live + 7 delivery, with 1.6 million adults 25-54 and 1.4 million adults 18-49.

Created by David Jacobs and developed by Cynthia Cidre, Dallas is executive-produced by Cidre, Michael M. Robin and Robert Rovner. The series is shot on location in the title city.

About Warner Horizon Television
Warner Horizon Television (WHTV) is one of the entertainment industry's leading producers of scripted series for the cable marketplace and primetime reality series for both network and cable. Founded in 2006, this second production entity allows the Warner Bros. Television Group to expand its programming offerings and explore creative options made possible under a new business model. WHTV's current unscripted series include The Voice for NBC, The Bachelor franchise — which includes The Bachelor and The Bachelorette – for ABC, Oh Sit! and the upcoming The Hunt for The CW, Who Gets the Last Laugh? and Deon Cole's Black Box for TBS, and Marshal Law: Texas (working title) for TNT. Scripted programs from WHTV are Rizzoli & Isles and Dallas for TNT; Sullivan & Son for TBS; Pretty Little Liars, The Lying Game and the upcoming Ravenswood for ABC Family; and Longmire for A&E.