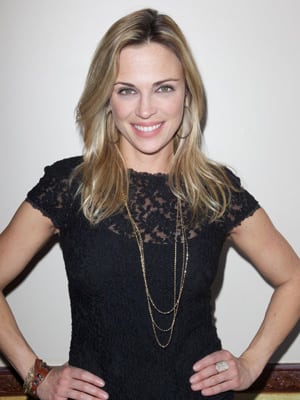 On Tuesday, March 12, during the east coast broadcast of ABC's "General Hospital"" (2:00 – 3:00 PM ET/11:00 AM – 12:00 PM PT), fans of Kelly Sullivan (Kate Howard/Connie Falconeri) will be able to tweet live with the soap star as she discusses her characters. Yes, her characters!
In the episode, Connie Falconeri is releasing her first novel titled "Love in Maine," which is in actuality a corporate tie-in with Disney/ABC Television Group's Hyperpion Books, and the site of the launch event turns into a scandal when Molly Lansing-Davis (Haley Pullos) and TJ (Tequan Richmond) show up with Alexis (Nancy Lee Grahn) and Shawn (Sean Blakemore) to assert their claim that Connie didn't write the book – Molly did. Will Kate back them up? Meanwhile, Sonny has a hunch that Connie has reemerged and goes in search of her. Who will he find when he finally tracks her down? It is a book launch party that cannot be missed!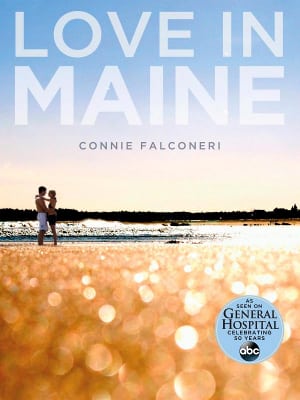 Fans of the soap will be able to submit questions to Sullivan via the #AskGH hashtag. The actress will respond using her Twitter account @KellySullivanNY.
Fans can also purchase their own copy of "Love in Maine" for a current discounted price of $10.19 at Amazon.com. The full retail price is $14.99. The book went on sale today.
About "Love in Maine"
"General Hospital" fans have seen the drama unfold between Connie Falconeri and Molly Lansing-Davis over the "Love in Maine" (#loveinmaine) manuscript. Now it's time to finally read the book. An extension of the incredible storytelling that has captivated "General Hospital" fans for 50 years, "Maine" is a romance novel that fans of the show have been eagerly awaiting, and will delight anyone who loves a compelling, steamy read.
Publisher Description

As seen on ABC Daytime's General Hospital, the delightful first novel from Port Charles's Connie Falconeri. Whether you've been a fan of GH your entire life or simply love a romantic romp of a beach read, Love in Maine is unputdownable!

Maddie Post is privileged, sheltered, and polite, and does not belong in Blake, Maine. But thanks to a high-stakes bet, she's waiting tables at a riverfront diner catering to boat-builders and living in Janet Gilbertson's $200-a-month guest room. And Janet's dark and stormy son, Hank, back in Maine after 10 years as an active duty Army diver, isn't without his troubles, either. Their flirty friendship hasmany passionate ups and downs, but when Maddie and Hank put aside their considerable differences and start opening up to each other, the crackle ofsummer romance grows into a blazing fire.

Connie Falconeri hails from Brooklyn, NY, where she had a colorful youth. After many years off, she's back and better than ever. This is her first novel.

"Newcomer Connie Falconeri writes with the confidence of a novelist who's been around forever, and she brings her charming characters to life with effortless imagination and breezy good humor."
—Kate Howard, publisher of Crimson magazine

"Love in Maine is a perfect summer read."
—Diane Miller, author of The Secret Life of Damian Spinelli

"Falconeri puts so much personality into her writing – it's almost like she has two personalities!"
—Ron Carlivati, Professor of Creative Writing, Port Charles University