News of Jenni "JWOWW" Farley heading to TOLN's "One Life to Live" had been brewing all day today as fans of the soap began noticing interesting messages posted on Twitter including one from "JWOWW" herself when she tweeted, "Heading out to the set of one hot new show! Can you guess where I'll be making an appearance this week?" The tweet was accompanied by an image that showed her in the "OLTL" hair and makeup room getting prepared for her scenes.
In a press release issued just a short time ago, The OnLine Network has announced that Farley, who is best known for her MTV series "Jersey Shore" and "Snooki & JWOWW"), would be joining the cast of the series in the recurring role of Nikki, a bartender hired at "Shelter," the new trendy nightclub owned by Blair Cramer (Kassie DePaiva).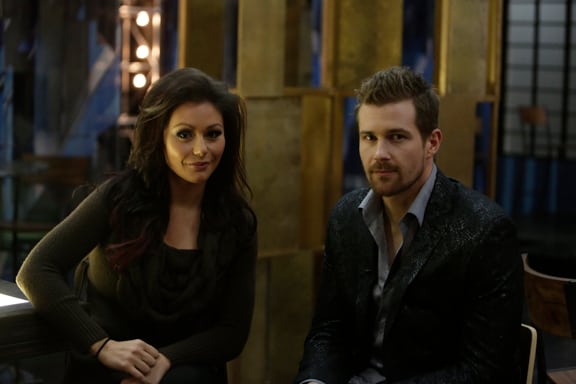 While filming scenes, Farley got some acting tips from co-star Josh Kelly (Cutter Wentworth), who demonstrated the infamous "pretend" slap.
"One Life to Live" premieres Monday, April 29 on Hulu, Hulu Plus and iTunes.
via Press Release
JENNI "JWOWW" FARLEY LANDS A NEW JOB IN LLANVIEW ON THE POPULAR DRAMA "ONE LIFE TO LIVE"

SET FOR DEBUT ON THE ONLINE NETWORK ON APRIL 29TH

Fuhgeddaboudit! Things are about to get rowdy in Llanview as Jenni "JWOWW" Farley (MTV's 'Jersey Shore' and 'Snooki & JWOWW') gets a new recurring role on the popular drama "One Life To Live," which is re-launching on April 29th on Hulu, Hulu Plus and iTunes thanks to The Online Network. On Thursday, March 28, JWOWW taped her scenes on the "One Life To Live" set in Stamford, CT. JWOWW plays Nikki, a bartender hired at the trendy nightclub Shelter, who in true JWOWW fashion, can mix an Alabama Slammer as well as she can flirt with customers. As Shelter's newest barmaid, club owner Blair Cramer (Kassie DePaiva) knows that it's best to keep an eye on Nikki so things don't get out of control.

While on set, JWOWW got some acting tips from Josh Kelly, who plays con man Cutter Wentworth. Things got out of control after Kelly showed JWOWW how to do a "pretend" slap. After a brief demonstration, Kelly asked JWOWW to slap, and she really did!

JWOWW, starred on MTV's reality series "Jersey Shore," and can currently be seen in season two of the hit spin-off "Snooki & JWOWW." In addition to her television success, JWOWW has written a book and has launched several successful brands. For more information about JWOWW, please visit her website at http://jwoww.com/.

In an announcement earlier this year, Prospect Park's The Online Network revealed its plans to re-introduce the beloved franchise, through a groundbreaking content deal that will bring premium first-run, broadcast-quality programming to a mass market audience via the Internet. Brand new 30-minute episodes of "One Life to Live" will be launched each weekday and available to stream online in HD (when available) via the free Hulu.com service and to subscribers of Hulu Plus making these venerable dramas available in a new format that suits the viewing habits of the digital generation. In addition, the iTunes Store will offer both series via iPhone, iPad, iPod Touch, Apple TV and Mac or PC.

About Prospect Park
Prospect Park is a media and production company founded in 2009 by entertainment industry veterans Jeffrey Kwatinetz and former Disney Studios head Rich Frank. Along with successful film and music divisions, the company's television group has numerous shows in development and breakout network hits airing including "Royal Pains" and "Wilfred."

More information about TOLN series will soon be available at www.TOLN.com and www.theonlinenetwork.com or follow The Online Network on Twitter (@toln ). For news and information about "One Life to Live," connect via Facebook or follow the series on Twitter at www.facebook.com/onelifetolive or @onelifetolive