First Look at the New 'AMC'!
The OnLine Network/TOLN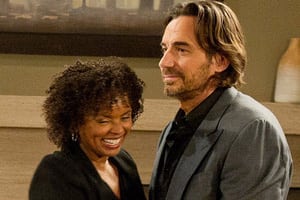 You've heard the buzz about what to expect when The OnLine Network debuts "All My Children" (via Hulu, Hulu Plus and iTunes) on Monday, April 29, and now you can see for yourself what the classic soap is going to look like when it hits its new web home!
TV Guide snagged a couple of exclusive episodics — one featuring Debbi Morgan's Angie Hubbard and Thorsten Kaye's Zach Slater, and the other featuring Jill Larson's Opal Cortlandt and Robert Scott Wilson's Peter Cortlandt — which prove that even though the sudser will be edgier in terms of content, it still seems to embody the classic soap opera look.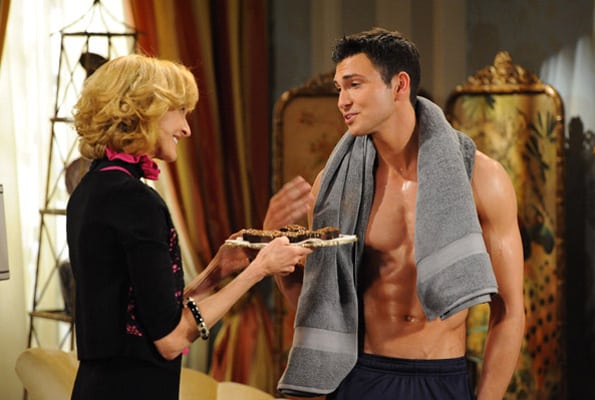 "The sets look fantastic," shares Jordi Vilasuso (Griffin Castillo) of Pine Valley's new digs. "[Prospect Park has] really done a fantastic job, bringing them in and making them look authentic. The scale is slightly different, but they're great. And it's like walking into your house. You know these sets… so it's nice that they pulled that all together. It's just another thing that is familiar."
But again, the content will verge on the racy side, as shown by this pic of Wilson (whom Larson revealed in Soap Opera Network's Sex! article is an actor she can't seem to take her eyes off of!). "In a word, he's delicious," she raves. "And he's going to be marvelous."
But he isn't the only thing Larson feels viewers are sure to love when the soap hits the web next month. "I think we feel more powerfully than we have in a long time [the presence of] the generations, the whole spectrum of the family tree," she previews. "And that part, I really love, because we've been missing that for a while. So it's an exciting chance to see where these stories will go, and there are some good stories. Good stories."