Despite appearing in an episode of "Castle" last Monday, even if they didn't share any scenes together, actress Nancy Lee Grahn (Alexis Davis) took on the topic of Jack Wagner while chatting it up with fans on Twitter during last nights "Golden Globe" Awards broadcast on NBC. The actress talked herself into a Twitter controversy courtesy of a tweet she made in regards to Wagner when she said, "Does anyone else think Bon Jovi looks like a less drunk Jack Wagner?" The tweet has since been removed from her page.
Staying classy, Wagner said in a series of tweets, "Morning, FYI I don't think the Nancy Grahn tweet was at all appropriate. I will address it w her if n when I see her again. Lv 2 u all." He followed that tweet with the statement, "Just wanted 2 make clear wy I retweeted Nancy's tweet. So many people myself included work very hard @ their recovery. I support all of them. FYI, my shining light on NLG's comment is 4 all 2 learn how powerful words r. I'm fine but awareness leads 2 compassion not insensitivity. I've learned, certainly the hard way n by no means am I perfect, that bye thinking b4 I speak r simply staying quiet I get 1 of the greatest. Gifts God has given me in sobriety..HUMILITY (n again I repeat I've learned the hard way, am still learning n am bye no means perfect). Lv."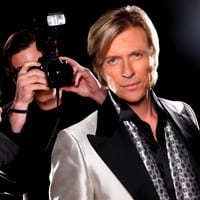 Grahn responded to her followers and said to @Irishgirl565, "it was a joke. relax. we are certainly old friends. just worked together." She told @KarlaHoffman, "didnt know he was an alcoholic or in recovery. It was passing joke with no ill will. Sorry he was offended" Grahn later apologized to Wagner when she said, "@JackWagnerhpk Obviously I had no idea u were alcoholic or in recovery. No ill will intended." That tweet too has also since been deleted from Grahn's Twitter page.
To make matters more than awkward, Soap Opera Network has learned that Wagner is set to repise his role of Frisco Jones on "GH," although his return is expected to be a short one according to a setside source, who revealed the actor has been recently spotted on set.