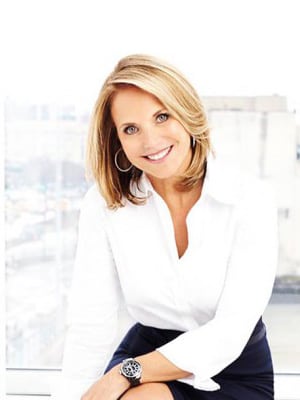 via Press Release
Ratings Report, Week of September 10, 2012
(Metered Market Live + Same Day Ratings)
"Katie" Opens as the Definitive No. 1 New Daytime Talk Show in HH and W25-54
Freshman "Katie" Outranks Key Returning Shows in Women 25-54, 
Beating the Premiere Weeks of "Dr. Phil," "Dr. Oz" and "Anderson Live"
Winning the Week in Each of the Top 3 U.S. Markets, "Katie" 
Ranks No. 1 in its Time Period in 14 Metered Markets Among Homes
"Katie" Finishes Out its Premiere Week with a Kick, Spiking 
+29% in HHs and +38% in W25-54 from Thursday to Friday
"Katie" Debut Week Ratings (w/o of 9/10/12)
Debuting amidst one of the most competitive landscapes in years for syndicated talkers, "Katie" opened as the clear No. 1 freshman daytime talk show, winning all 5 days of its opening week in Homes. On average during the week, "Katie" held wide advantages over its freshman competitors in both Households (2.3/7) and Women 25-54 (1.2/7), including "Steve Harvey" (+64%/+33%), "Jeff Probst" (+188%/140%) and "Ricki Lake" (+229%/+200%).
Newcomer "Katie" also performed extremely well against the returning talk shows.  In HHs and W25-54, freshman "Katie" towered over sophomore "Anderson Live" in its first week (+92%/+140%) and beat out the premiere of veteran "Dr. Oz" by 5% and 20%, respectively.  Furthermore, "Katie" bested the premiere week of "Dr. Phil" by 20% in Women 25-54 and ran in a near-tie in Households (pacing within 1-tenth of a rating point and tied in audience share).  Overall, "Katie" opened as TV's No. 3 syndicated talk show in Women 25-54.
"Katie" delivered the No. 1 position in its time period in 14 metered markets among Households, including the Top 3 U. S. markets of New York, Los Angeles and Chicago.  In addition among Women 25-54, the new show won its time slot in both New York and Los Angeles for the week. 
Finishing out premiere week with a kick, "Katie" shot up from its Thursday telecast to its Friday telecast by +29% Households and by +38% in Women 25-54 from day to day.
"Katie" is executive-produced by Katie Couric and Jeff Zucker and is distributed by Disney-ABC Domestic Television. Co-executive producers are Kathy Samuels and Michael Bass and the program is directed by Joseph Terry.
Source: WRAP Overnights, Weighted U.S. Metered Market Averages, Live + Same Day (w/o 09/10/12).