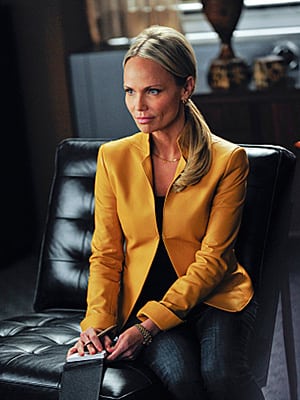 People Magazine is reporting that Kristin Chenoweth, who was scheduled to appear in a recurring role on the new season of CBS' "The Good Wife" as a political reporter, will not be returning to the series.
In a statement to People Chenoweth said, "It is with deep regret to inform everyone that due to my injuries, I am unable to return to 'The Good Wife' at this time." On the status of her health the actress stated, "[I'm] getting better slowly, and thank you everyone for your concern."
Chenoweth injured herself last month after a piece of falling lighting equipment caused her to fall and hit her head on concrete while filming scenes, TMZ reported. "While filming a scene for 'The Good Wife' in Brooklyn, a gust of wind blew a lighting silk out of place striking actress Kristin Chenoweth. All of us at the studio and the show are thinking about Kristin and wishing her a quick recovery," CBS, which produces the series, said in a statement at the time.
According to Deadline Hollywood, Chenoweth's role on "Wife" will not be recast and the program will have other characters continue the storyline in already written episodes. "We enjoyed having Kristin on the show and would love to have her back when she's feeling better," said a CBS representative.
Despite her not continuing on the show, Chenoweth will still appear in the season premiere episode of "The Good Wife" on Sunday, September 30 at 9:00 PM ET/PT on CBS.