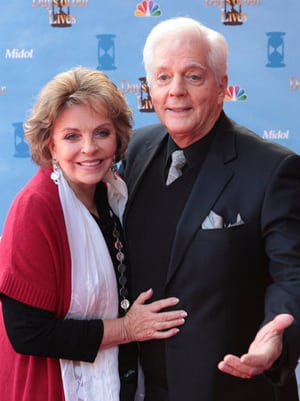 "Trumpet" is the fictional story of Elizabeth Trumpet who's looking become an actress on the london stage but finds herself dealing with situations that a sixteen year old girl of today couldn't even imagine. Danger, intrique and tantalizing storytelling abound in the 422 page fictional story by authors and real-life married couple Bill and Susan Seaforth Hayes, who are best known for their roles as Doug and Julie Williams on NBC's "Days of our Lives."
Beginning today through August 3, the duo will take part in a book signing tour throughout the country. "Trumpet" hit stores and online retailers on March 25, 2012.
Wednesday – July 18th – 7:00pm to 9:00pm
Barnes & Noble
The Grove at Farmers Market
189 Grove Drive Suite K-30
Los Angeles, CA 90036
Wednesday – July 25th – 4:00pm to 6:00pm
Horizon Books
243 E. Front Street
Traverse City, MI 49684
231-946-7290
Tuesday – July 31st – 7:00pm to 9:00pm
Anderson's Bookshop
123 W. Jefferson Avenue
Naperville, IL 60540
630-355-2665
Thursday – August 2nd – 7:00pm to 9:00pm
Left Bank Books
399 N. Euclid Avenue
St. Louis, MO 63108
314-367-6731
Friday – August 3rd – 4:00pm to 6:00pm
The Firefly Grill
1810 Avenue of Mid-America
Effingham, IL 62401
217-342-2002
About the Book (via Amazon.com)
Brilliant and sassy Elizabeth Trumpet fantasizes starring on the London stage, but to become an actress in 1803 is tantamount to losing her virginity in the most debasing way.

After watching her mother die and her father lose his mind, the courageous sixteen-year-old must find a way to save her family. She scores her first acting job as a fencer—the deadly skill she learned from her brother training for the military. Blessed with talent and a rare singing voice, Lizzie pursues her career, learning from theatrical characters high and low.

When reckless actor Jonathan Faversham sets eyes on Miss Trumpet, he knows he's found the partner of his life. But Faversham carries ruinous baggage from a dark past. Entangled in lust and ambition, Lizzie gives him her heart and they reach the heights together. Until Lizzie gets more applause than he…

From the magnificence of Regency palaces and the Theatre Royal Covent Garden to the sun-baked pyramids of Egypt and the arms of a real-life Samson, Lizzie is never far from trouble. As her brother rides to glory with Wellington in the Napoleonic Wars, great events threaten her survival. Danger lurks behind stage curtains, when a madman sets fire to take her life and she lifts a sword in revenge.

Will this once innocent girl, with her rise to stardom, be remembered for her art? Or for her shame?