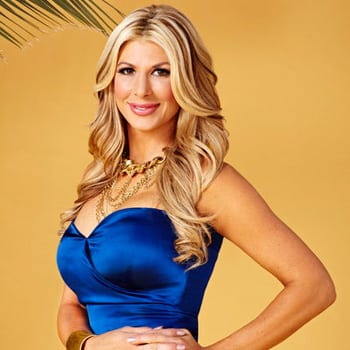 (SoapOperaNetwork.com) — "The Real Housewives of Orange County" star Alexis Bellino tweeted earlier this evening that she had been brought in for a cameo appearance on ABC's "General Hospital."
The sometime's actress first alluded to her appearance on a daytime soap opera when she said, "I've been keeping a secret but SO excited cuz I'm in LA for an acting role on a popular soap & I get to share it w/ all of you today!" She would later follow up the tweet by saying, "Guess what?! I just arrived on set of General Hospital for my 1st cameo appearance! EXCITING! I can't tell details yet but I will soon!" Her tweet was re-tweeted by "GH" executive producer Frank Valentini.
Bellino revealed that she had been welcomed back by "General Hospital" after reportedly doing a good job today:
Yeeheee! Leaving General Hospital set now and they said they'll be having me back! Are you kidding?! OMGosh! SO much fun! TYJ!!!

— Alexis Bellino (@AlexisBellino) April 11, 2012
Per her Twitter posting, Bellino will first air on Wednesday, May 9, 2012.
A "GH" representative was unavailable for comment.