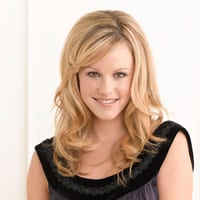 (SoapOperaNetwork.com) — "General Hospital" Episode Recap – Tuesday, January 10, 2012.
IT HAPPENED TODAY…
Jason changes his mind and decides to go after Franco – for good. Sam watches a nurse and infant at the hospital.
Patrick overhears Jason demanding Robin tell her husband the truth. But Robin dissembles and Patrick lovingly sends her off.
Carly barrels in on Sonny and Kate. Later, Sonny and Kate agree to be public.
Carly pulls Johnny just as Anthony gets a visit from Michael. Michael demands justice from the PCPD, who has yet to find the guy killing dancers. Later, Delores finds a clue that connects the victims.
Freaked that she is being followed, Maxie lets loose on Lulu as they do yoga.
Anthony prepares to marry Tracy Quartermaine with Maxie's help.
On the Next General Hospital…
Carly asks Luke for a bargaining chip.
Helena is waiting at Wyndemere.
Johnny makes a strange demand on Dr. Webber.