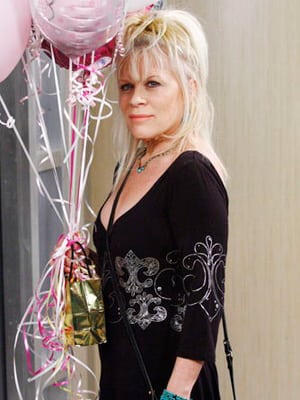 (SoapOperaNetwork.com) — "One Life to Live" Episode Recap – Thursday, November 3, 2011.
IT HAPPENED TODAY…
Natalie almost catches Roxy trying to prod John into telling Natalie he loves her. Tina gushes about Cord, telling Natalie about how she almost married the wrong man (Max) but was stopped when she said Cord's name at the altar instead of Max's. Natalie, horrified, tells her to shut up. Viki, alone with Natalie, understands why Natalie's upset.
Meanwhile, Roxy spills to Tina about John. Natalie apologizes to Tina. Roxy finds John and tells him Natalie is alone. John goes to Natalie.
Jack's not happy to find Todd at the newspaper office. Jack's contemptuous, but Todd urges him to stay and work with him. He leaves and runs into Vimal's little sister, Neela, who's run away from her parents in India to escape an arranged marriage.
Téa tells Dani about the outcome of Victor's will, and Dani worries that Todd will think they owe him something. Dani notices Téa isn't eating. Téa urges Dani to get to know Todd. Destiny arrives with some strange food choices to satisfy her pregnant cravings. Téa gets sick.
On the Next One Life to Live…
Todd encounters Louie at The Sun.
Vimal and Rama search for Neela.
Téa takes a pregnancy test.