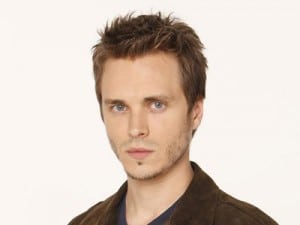 (SoapOperaNetwork.com) — A look at what's happening on "General Hospital" during the week of November 14, 2011.
THIS WEEK ON: GENERAL HOSPITAL
On Monday, November 14, Maggie gets comfortable with her surroundings. Spinelli senses something is off with Sam on Tuesday, November 15. Jason snaps when Sonny questions him about Franco. Sam and Jason continue struggle as the hitman makes it his mission to track down Franco. Maxie receives a familiar gift. Maxie has a proposition for Matt. Ethan questions Alexis after several more odd occurrences at Wyndemere. Multiple people lurk the halls of the dark castle on Friday, November 18. Michael tells Carly what his condition is for attending her Thanksgiving feast. Sonny tells Alexis what he wants from her. Sonny makes a big decision after another argument with Carly.
The Inside Story: Tortured Souls
Delirious with fever, Elizabeth insists to a visiting Jason that their son is still alive as Matt and Monica look on. Meanwhile, one of Elizabeth's other children, Aiden, gets a visit from his grandfather. Luke receives an urgent call from Lucky. Lulu and Tracy fear the worst when they realize Luke and Aiden are missing. Luke has a thought provoking conversation … with himself on Wednesday, November 16. Will it distract him from the figurative and literal road ahead? Lucky boards a plane back to the states. Tracy and Lulu are shocked when they learn what Lucky requested of Luke. On Thursday, November 17, Steve, Monica, Robin and Maggie grow concerned after examining Aiden. Maggie has Aiden's diagnosis. Tracy confronts Luke after he suffers a setback.
A Closer Look: True Crimes
Mac questions Robin and Patrick about the last time they saw Lisa. Dante steps in after finding Delores questioning his mother about Lisa. Sonny and Luke discuss the relationship between Dante and Lulu. Meanwhile, Dante returns home where he ends up leveling his frustrated and wary fiance with his announcement about the murder investigation. Steve and Matt discuss Lisa. Patrick confronts Anthony and Johnny about the part they played in the whole Lisa debacle. Dante arrives and observes the dynamic between the Zacchara men. On Friday, November 18, incriminating evidence is found against a suspect in the Lisa Niles murder investigation.
GH ALERTS: WEEK OF NOVEMBER 21, 2011

Sonny has a surprise for Kate.
Things take an interesting turn when Delores pays the Zacchara men a visit.
The annual Quartermaine Thanksgiving feast.