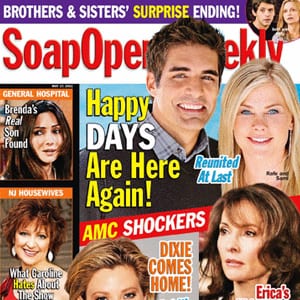 (SoapOperaNetwork.com) — On Sunday, November 13, The New York Times reported that American Media, Inc., which earlier this year purchased the licensing rights of both Soap Opera Digest and Soap Opera Weekly from owner Source Interlink, in which the company now oversees all aspects including editorial, advertising, marketing and distribution, would be launching a new weekly magazine dubbed Reality Weekly.
The magazine, which is set to launch in January 2012 with a newsstand price of $1.79 per issue, has long been expected. After all, reality TV related programming and "stars" have graced the covers of People and Entertainment Weeky, and even celebrity gossip mags Us Weekly, Star (which is owned by American Media) and Life & Style.  With coveted supermarket placing between both Weekly and Digest, many often wondered if, along with dwindling audience for the soaps, American Media took over the mags just for their positioning and would shutter the mags in place of magazine's such as Reality Weekly. Thankfully, that doesn't seem to be the case.
Although I do not personally subscribe to either Digest or Weekly, it recently came to my attention that Soap Opera Weekly no longer provides subscriptions for soap fans wishing to receive their Weekly at home as it and numerous other magazines have done since their inceptions. This was later confirmed as the magazine no longer provides an online subscription via the Zinio magazine subscription and tablet application service. Digest and Soaps in Depth (both ABC and CBS editions) continue to provide subscriptions, however.
An American Media representative told Soap Opera Network "Absolutely not!" when asked if the launch of Reality Weekly had anything to do with the company's decision to stop providing subscriptions for Weekly. "We made it a 100 percent newsstand mag that generates a million dollars of editda per year," the rep continued. EDITDA stands for Earnings before interest, taxes, depreciation and amortization.
In an industry plagued with erosion, it's safe to say that at least our soap magazine's appear to have more longevity than some of the soaps themselves.