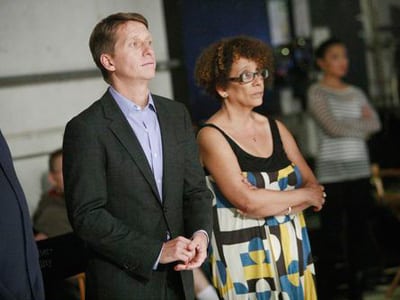 (SoapOperaNetwork.com) — On Thursday, October 20, it was announced that longtime "General Hospital" writer Michele Val Jean would be joining the Emmy Award winning writing team of CBS' "The Bold and the Beautiful." Also on that day Val Jean was given the opportunity of visiting the set of the soap while they were filming so she could get a better feel of the characters and the actors.
"I am pleased to announce that Michele Val Jean will be joining our writing team," said Executive Producer and Head Writer, Bradley P. Bell shortly after showing Val Jean around the set amidst introductions to cast and crew. "With her vast wealth of knowledge, experience, and creativity, Michele is sure to be a significant addition to 'The Bold and the Beautiful.'"
For the past 18 years Val Jean held numerous positions as a writer at "GH" including a brief stint as Co-Head Writer in early 2001 (January 2001 – April 2001) along side "GH" Script Editor Elizabeth Korte. Val Jean was also an Associate Head Writer and Occasional Scipt Writer on the soap from 1996-2000. Val Jean joined the "General Hospital" writing team as a Script Writer in 1993 and departs in 2011 in the same position.
One of the rarest of qualities found in a daytime writer today is a presence that connects fans of daytime serials to the creative minds behind what appears on screen. Unlike many of her peers, Val Jean has been a key fixture in social networking services including Facebook and Twitter. Just a short time ago for instance Val Jean wrote on her Twitter page and said, "Home stretch. One more script and I turn the page on an 18+ year chapter in my life and begin another. #lookingforwardtothefuture." Laura Wright, who portrays the popular Carly Jacks on "GH" responded to Val Jean's tweet shortly afterward by saying, "@MicheleValJean so excited for u and super sad not to say ur words anymore! Enjoy ur next chapter!!!"
In addition to her work on "GH," Val Jean is credited as a writer on both "GH" spinoffs (SOAPnet's "General Hospital: Night Shift" and ABC's "Port Charles), " NBC's "Generations" and "Santa Barbara."
At this time it remains unclear as to when "B&B" scripts written by Val Jean will first appear on screen. Stay tuned to Soap Opera Network as this story develops.