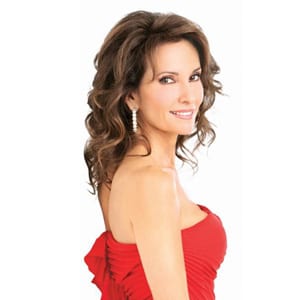 (SoapOperaNetwork.com) — TV Line revealed today that  Susan Lucci has landed a gig on "Army Wives" which airs on the Lifetime cable network. The popular series stars Lucci's former "All My Children" co-star Kim Delaney. For at least two episodes of the sixth season of the series, which will begin airing in the spring of 2012, the daytime legend will be playing a former Army wife and a new confidante of sorts for Delaney's character, Claudia.
"Army Wives," which averaged 3.7 million viewers a week in its fifth season and has earned the distinction of being the number one scripted drama series on cable in the Female 18-49 demographic, debuted in June 2007 on Lifetime with Delaney as its headline star.
The beautiful Delaney played Jenny Gardner, one half of super couple Greg (Laurence Lau) and Jenny, on "AMC" from 1981 to 1984. Despite some ongoing personal issues that have recently put the actress on the news, Delaney has enjoyed a successful prime-time television career with starring roles on series including "NYPD Blue," "Philly" and "CSI: Miami." Lucci, of course, is an original cast member or "AMC" which debuted in 1970. Along with the prestigious honor of hosting "Saturday Night Live," during her career the popular actress has been the commercial spokesperson for brands including Ford automobiles, guest-starred on numerous series and starred on numerous television movies.
Last she touched on the topic, despite prior reports to the contrary, Lucci confided that she was still in ongoing negotiations with production company Prospect Park to bring Erica Kane back to Pine Valley. "AMC" is scheduled to debut online at some point in 2012.