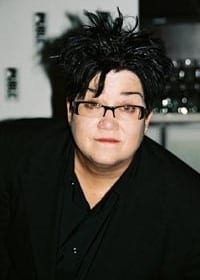 (SoapOperaNetwork.com) — Llanview comings and goings for the month of October.
Thought you'd seen the last of Llanview's craziest physic, but were hoping that you'd be wrong? If so, then you are in luck. Lea DeLaria reprises her role of Madame Delphina on Monday, October 10 when she encounters someone who is feeling a little guilty over something they've done as well as someone that asks her to repeat something in particular that she did for him once in the past.
Wendy Moniz is back as Llanview's new mayor Kathleen Finn on Monday, October 3, and again on  Thursday, October 20 when she shows the Llanview Police Department some tough love.
David A. Gregory (Ford) has listed his October airdates on his Facebook page as being the 5, 6, 18, 19, 25, 27, and 31. That is 7 out of 21 episodes airing during the month.
Christopher L. Graves will play a Paparazzi on Friday, October 21. Also in that episode will be Nic Robuck (James), according to IMDb.
Expect to see a little more of Barbara Rhoades (Irene Manning) as the calendar changes from September to October. But will that be the last fans will be seeing of her, or will Irene's reign of terror continue? Tune in to find out!
Don't look for Kathy Brier (Marcie) or Chris Stack (Michael) to come back to Llanview for a little while longer. Brier tells a fan on Facebook that their return won't happen until "Toward the end of October."
It's Halloween time in Llanview. Sean Ringgold (Shaun) posted this picture on his Facebook page last Friday, along with the comments "Hey Guys I'm in the Studio about to shoot some Halloween scenes . Can anyone guess what I will be ? I'm sure some people will have jokes for this question but what The heck :- )"
If your wondering about when some of your favorite (or not) recurring characters will be getting a little more airtime, no need to fear. Several actors, including Ilene Kristen (Roxy), Kim Zimmer (Echo), Nick Choksi (Vimal), Shenaz Treasury (Rama), Austin Williams (Shane), and Austin Peck (Rick) will all appear on screen at one point or another again in the coming weeks.
Are Farah Fath (Gigi) and John-Paul Lavoisier (Rex) about to leave "OLTL" behind? Fath tweeted on September 21 that "I'll study twitter slang tomorrow, i gotta go to bed now, 'OLTL' at the crack…" And, when asked about how much longer she would be in New York City (where "OLTL" is taped), she responded with "Only for 2 more months."
What fun place to work. Kristen Alderson (Starr) tweeted on Monday that she was "Working with silly folks today!"
And talk about a long day on the set. "OLTL" make-up artist Julia Davis tweeted on September 22 that "They have extended our out time. No cooking tonight. This calls for takeout," and that she was "Finally headed home after 13 hours on set. Thanks a Good Night to Llanview… In need of some zzzzz."