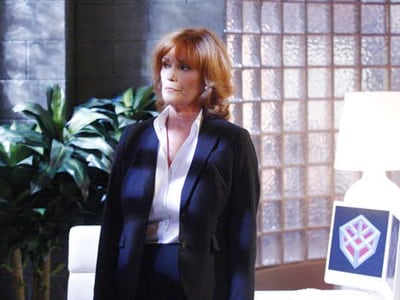 (SoapOperaNetwork.com) — "One Life to Live" Episode Recap – Tuesday, September 20, 2011.
IT HAPPENED TODAY…
Todd and Irene are face to face in their cells. She is responsible for concealing Louie and the gun that will clear him. But she'll produce it and get him off the hook, if Todd will give her what she wants..
John admits to Bo that he thinks Jack is lying about Todd's guilt in Victor's murder. John runs through possible suspects, specifically Rex. Bo sticks up for him. Then John proposes another suspect.
Shane appears at the cemetery and needles Jack subtly about what it feels like to lose someone he loves. Jack tells Shane he was an eyewitness to the murder and that his father hit him on the head before going in and shooting Victor. When Jack leaves, Shane goes to Gigi's grave and tells her that Jack is lying.
Kim diverts Rex from seeing her friend in the hospital room and comes up with a plan to prevent Rex from ever seeing the person in the bed.
Natalie gives Brody an answer to his marriage proposal making it clear that their relationship has nothing to do with John. Brody tells her he loves her.
Baz and Rick find Starr and James at Capricorn. Baz has reconsidered and wants Rick to produce their single. He works to convince her, despite James's objections, that Rick will be a good producer. Starr feels finally that she should follow her dream and agrees to let Rick produce it.
On the Next One Life to Live…
Dani visits Todd in jail.
Cutter confronts Kim.
John questions Irene.