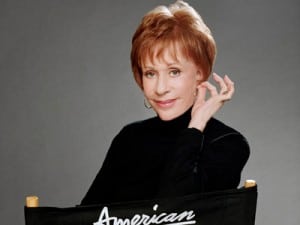 (SoapOperaNetwork.com) — If you are a fan of "All My Children" you have probably given up on both keeping count and keeping track of all the returns racking up to help guide the 41-year old daytime drama's exit off ABC Daytime. Don't fret, Soap Opera Network is here to help guide you.
Carol Burnett return as Verla Grubbs beginning on Tuesday, September 6. For two episodes, Burnett brings the eccentric daughter of Langley Wallingford (Louis Edmonds) back to Pine Valley to stir up trouble for Opal Cortlandt (Jill Larson).
Thanks to the reach of Facebook, the hard-to-find Jason Kincaid returns as Sam Brady next week, as well . Kincaid played the object of both Opal (then played by Dorothy Lyman) and Verla's affections in the 1980s. Verla won Round One in the battle for Sam's heart. If Opal and her closest friends have anything to say about it, Opal will knock Verla out of the ring in Round Two.
"Seinfeld" and "Dancing with the Stars" alumni John O'Hurley shows up as film producer Kit Sterling on Monday, September 12. He presents Erica Kane with an offer he hopes she can't refuse.
Julia Barr returns as Brooke English on Friday, September 16. Look for Brooke's return to Pine Valley to tie into JR Chandler's (Jacob Young) story. David Canary will follow on the heels of the love of Adam Chandler's life. Along with a multitude of unforgettable connections, Adam is, of course, the father of JR and Colby Chandler (Natalie Hall). Will David Canary also dust off Stuart Chandler for one more appearance? Stay Tuned.
Alexa Havins will return as Babe Carey on Tuesday, September 20. Babe is the daughter of David Hayward (Vincent Irizarry) and Krystal Carey (Bobbie Eakes). She is also the ex-wife of JR and the mother of his son AJ (Tate Berney). Is Babe alive? Stay Tuned.
Justin Bruening returns as Jamie Martin on Wednesday, September 21. Jamie is the son of Tad Martin (Michael E. Knight) and Brooke. He is also JR's brother-in-heart and Babe's former lover.
Sarah Michelle Geller and Eva La Rue also return to the scene on September 21 for a quick sighting. In tribute to her "Buffy the Vampire" success, Gellar (who played Kendall Hart from 1993 to 1995) plays a psychiatric patient that is convinced she's surrounded by vampires. La Rue's Dr. Maria Santos will see to her care.
Look for Ray MacDonnell and Lee Meriwether to also return as Dr. Joe and Ruth Martin during the week of September 19. Leven Rambin had to cancel her return to "AMC" due to a scheduling conflict. Rambin, who played Lily Montgomery on the ABC soap, is currently filming the much-anticipated film "The Hunger Games." "AMC" last airs on ABC Daytime on Friday, September 23, 2011.