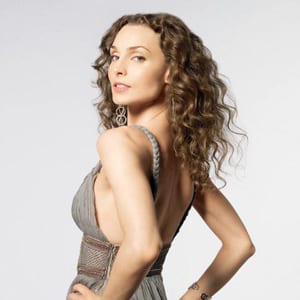 (SoapOperaNetwork.com) — Last week, interviews released by The Hollywood Reporter had Alicia Minshew, one of 'All My Children's" most popular stars, directly quoted as saying she was "ready to move on" when asked about continuing with the 41-year old soap as it goes online. In the same interview, Minshew did concede she would be open to continuing with the show with a reduced schedule but that Prospect Park had yet to contact her to begin discussing terms. On Tuesday, the actress revealed to Soap Opera Digest that she is now in talks with the production company that licensed "AMC" and things are looking "really promising" for her to continue with the soap opera that put her on the map.
Talking with Digest, Minshew clarifies that she has never had any intention of just walking away from "AMC" which she feels appeared to get lost in the translation of the interview released last week. The 37-year old actress is married to a New York based restauranteur, Richie Herschenfeld, and notes at that some point she will have to return to the East Coast. The mother of a soon-to-be 2-year-old daughter, Willow, says for her it comes down to what is best for her and her family. She is hopeful something can be worked out, noting the people she is communicating with from Prospect Park "are really nice and really smart and they get it. They understand about family, which I love."
Minshew debuted in the role of Kendall Hart in January 2002. The role was, of course, originated by Sarah Michelle Gellar from 1993 to 1995. (Gellar, who has moved on to prime-time television success, will make a brief cameo appearance on the Wednesday, September 21 episode of "AMC.") Minshew has earned two Daytime Emmy nominations for her work as Erica Kane's (Susan Lucci) oft-time rebellious first-born; a Supporting Actress nomination in 2009 and she landed in the prestigious Lead Actress category for her work in 2010. The actress reportedly recently turned down an offer to star on, as of 2012, one of the four remaining network soap operas.
Minshew is scheduled to appear with several of her co-stars on a special edition of "The View" on Friday, September 23. "AMC" last airs on ABC Daytime later that same afternoon.