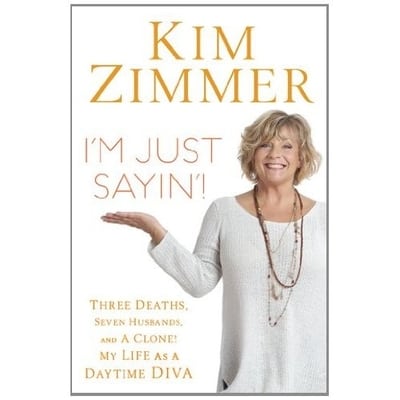 (SoapOperaNetwork.com) — Daytime vet Kim Zimmer takes time off her book tour for her new memoir "I'm Just Sayin': Three Deaths, Seven Husbands and a Clone! My Life as a Daytime Diva" to mention what the future holds for her on "One Life to Live."
In a newspaper interview, which took place earlier this week Zimmer, who returned to "One Life to Live" as Echo DiSavoy last October, reveals what it is like to work on "Guiding Light" for nearly thirty years, her feelings on how the show ended, and why she feels the soap genre is dying.
With regards to "One Life," the actress previews what lies ahead for her and her character. "I start rehearsals as Norma Desmond in [a Michigan stage production of] 'Sunset Boulevard.' I'll do that for a month and then go back to New York, where I'll hopefully continue to work on 'One Life To Live' for as long as they need me."
With the show wrapping production on its ABC run in November before switching to an online distribution, Zimmer remains optimistic about the future, commenting that when "OLTL" leaves TV "Then I'm an unemployed actor again, unless something else comes along. I've worked a lot in my life and I don't have any fear that I'll never work again. I'm in a really good place right now and I'm taking it day by day."
You can read the full article here.