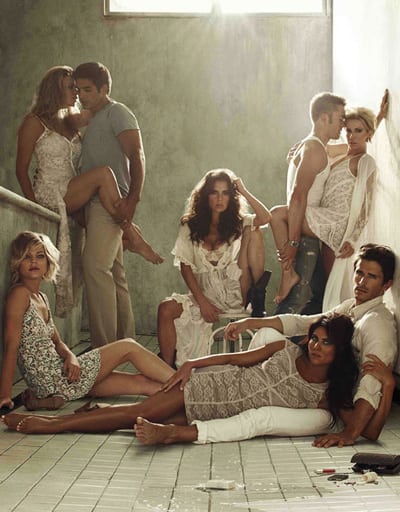 Entertainment Weekly's InsideTV posted your first look at the cast of E!'s new reality series "Dirty Soap."
Premiering Sunday, September 25 at 10:00 PM ET on E! "Dirty Soap" follows the real lives of daytime's hottest stars including Kelly Monaco ("General Hospital"), Nadia Bjorlin ("Days of Our Lives"), Kirsten Storms ("General Hospital"), Farah Fath ("One Life To Live"), John-Paul Lavoisier (referred to as "JP" in the reality series; "One Life To Live"), and Galen Gering ("Days of Our Lives"). Also appearing in the soap will be Gering's wife of 11 years, Jenna, who can be seen at top left.
Noticeable scenery, outside of the cast wearing some interesting attire in what appears to be a hallway, include a bar soap inside a small puddle of water, a purse that looks to have lost some items such as lipstick, a cell phone and one other unmentionable.
For a look at what you can expect from the series, here's the official trailer: