Tuesday, August 4, 2009 11:14 PM ET | By Scotty Gore
---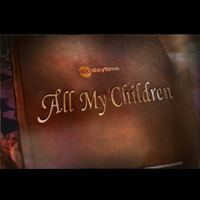 (SoapOperaNetwork.com) — In a shocking chain of events, ABC announces that it plans to move production of "All My Children" to the West Coast, and relocate "One Life to Live" into "AMC's" soon-to-be vacated New York studios.
Despite repeated denials from ABC in recent weeks to persistent online rumors at Daytime Confidential that plans were already in the works to move the broadcaster's youngest soap cross country, the network did a complete 180 today by dropping a bombshell on the set of the daytime drama "All My Children."
According to reports, ABC Daytime President Brian Frons gathered the soap's cast and crew together this afternoon to inform them that "AMC" would be shifting production from New York City to Los Angeles beginning sometime in December in an attempt to cut costs during the current economic downturn.
"ABC Daytime announced today that it would move production of 'All My Children' from New York to Los Angeles and that 'One Life to Live' would move into 'All My Children's' former New York space, giving both shows facility upgrades and streamlined production models," states a network press release.
 
"'All My Children' will begin taping episodes in Los Angeles the week of Jan. 4, 2010, and will begin airing in HD in February. The move of 'One Life To Live' to its new home takes place soon after 'All My Children' relocates." "One Life to Live" will transition to HD early next year as well. "AMC's" first tape date in L.A. comes only one day before the long-running sudser marks it 40th anniversary.
"'All My Children' is one of the most recognizable brands in television, and we are committed to continue telling and enhancing the stories of the residents of Pine Valley. The move to Los Angeles enables both 'All My Children' and 'One Life to Live' to dramatically improve the series production models and achieve significant efficiencies while enhancing each show. We had to examine every option on the table to combat the current economic realities, and rising costs of production, and we are doing it in a way that makes each of our shows stronger," Frons laments.
"AMC's" new L.A. based studio is said to be twice the size of their one in New York, and will include two sound stages that will allow them to keep more sets assembled and standing between episode tapings.
"OLTL" will experience 30% additional space when the soap moves in to "AMC's" current home, and will receive several facility upgrades. Furthermore, ABC is seriously considering turning "One Life to Live's" rather cramped current home into much needed office space for the network.
Agnes Nixon, creator of both "All My Children" and "One Life to Live," attempted to place a positive spin on the move by commenting that "I am so grateful for the wonderful commitment from ABC to 'All My Children.' While I will miss being able to run over to the show … it feels a little like I am sending one of my children off to be married. … I am glad the network is making moves that will enable the team to continue telling stories about Pine Valley. … There are many more secrets to be revealed."
One of those secrets will be just how many of "All My Children's" current cast and crew may be willing to remain with the show and relocate nearly 2500 miles away from the Big Apple, most notably the iconic Susan Lucci (Erica Kane), one of the soap's two remaining original cast members.
Los Angeles City Council president Eric Garcetti informs Variety that "AMC" will be filming in the city's Glassell Park neighborhood. "We have been working hard to bring production back and this is great," he says.
"Children" will join ABC's signature soap "General Hospital" as the network's only West Coast based daytime dramas. "GH" underwent significant changes earlier this year, which included building a new hospital set and transitioning the show to High-Definition, a move which set ABC back an estimated $3 million.
Needless to say, the move has some soaps fans more than a little shaken up, given the recent cancellation of two other daytime soaps within the past year. In August of 2008, "Passions" was cancelled after only nine years on the air. And in April of this year, CBS announced that the industry's longest-running daytime serial "Guiding Light" would be airing its final episode on September 18th, after more than 72 years on television and radio. To further add to the uneasiness, speculation persists that ABC is planning to launch a new talk starring Aisha Taylor, which could find its way onto the Alphabet Network's already crowded daytime schedule, despite repeated assertions by ABC that the show is being geared toward syndication.
Despite the changes in production and relocation of two of the network's three daytime dramas, ABC insists that their three hour weekday afternoon soap block will remain unchanged with "All My Children," "One Life to Live," and "General Hospital" continuing to air in the same order they have been since 1978.
SON will continue to follow this breaking story and bring you more details as they develop.
"All My Children, "One Life to Live," and "General Hospital" air Weekdays on ABC. Weeknights on SOAPnet. Check local listings.
---
Discussion: Breaking News: 'AMC' Moves to L.A., 'OLTL' Switches Studios
---