Friday, August 7, 2009 10:35 AM ET | By Angela Rosa
---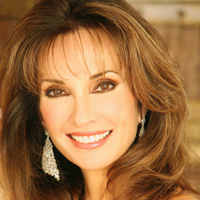 (SoapOperaNetwork.com) — Susan Lucci's future with "All My Children" is up in the air.
On today's "Regis & Kelly," Susan Lucci shocked former "All My Children" co-star Kelly Ripa by announcing that she's not sure if she'll make the decision to move to Los Angeles with the production of the soap she helped make. Lucci, who has been with "AMC" since it's first air-date in January 1970, told Ripa, "I don't know what I'm going to do" in reference to leaving New York to remain with the show. Still in a state of shock from the news that dropped this past Tuesday, Lucci emphasized that while she appreciates being given a choice unlike some other co-workers and crew that uprooting 3,000 miles is a big decision to make for her and for the entire cast. It's also a decision they have just one week to make according to co-star Thorsten Kaye who plays Erica Kane's son-in-law, Zach Slater. The actress who has New York in her heart and blood reports that she'll likely make her final decision during a vacation she'll leave for this weekend.
The interview was originally scheduled to discuss Lucci and her character Erica Kane's enlightening trip to Kenya, Africa; 'AMC's' just announced move to L.A. of course pushed that discussion back a segment.
Like Lucci, co-star Thorsten Kaye points out that while the decision shows ABC has a lot of belief in 'AMC' he doesn't know if he'll make the move. In today's New York Daily New, Kaye reports, "I'm not sure what I'm going to do. I'm not the kind of dad who wants to be 3,000 miles away from my kids." Kaye's wife, Susan Haskell, currently works on "One Life to Live" which will continue to be produced in New York.
"All My Children" airs Weekdays on ABC. Weeknights on SOAPnet. Check local listings.
---
All My Children
Susan Lucci
Erica Kane
Thorsten Kaye
moving to L.A.