Monday, July 27, 2009 9:00 PM PT |
By Errol Lewis
---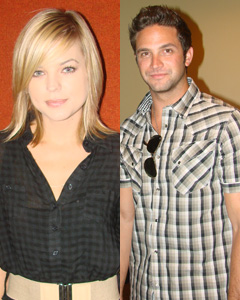 (SoapOperaNetwork.com) — "General Hospital's" Brandon Barash (Johnny Zacchara) and Kirsten Storms (Maxie Jones) are two prominent soap figures in the Twitterverse, and are good friends on and off the set, but don't expect to see a Jaxie pairing anytime soon as long as Kirsten has something to say about it.
"No way. He's getting around now. There can only be one of those in a relationship [laughs]," said Storms referring to Maxie and Johnny changing bed mates in such short time periods. "She doesn't want me anymore. I've been used up," Barash responds. Though he continues with, "In life there are passengers and there are drivers. Two drivers in a relationship doesn't work."
When Brandon joined the cast in 2007, his character, Johnny, was involved in a love story with Julie Marie Berman's Lulu Spencer. Unfortunately, the coupling came to an end earlier this year when the show opted to move the character in a different direction. Enter Maxie Jones (Storms).
Maxie and Lulu (Berman) moved in together in order to save money on rent. Johnny stayed over their apartment so much that he became a third roommate. His presence in the apartment led to a sexual attraction between him and Maxie that resulted in a kiss. The kiss led to the break up of Johnny and Lulu and Maxie and Damien Spinelli (Bradford Anderson). Months later, Johnny now finds himself in a tawdry affair with Olivia Falconeri (Lisa LoCicero) and Maxie is getting marriage proposals from Spinelli (Anderson).
Johnny Zacchara's relationship with older woman Olivia (LoCicero) brings a new twist to daytime as it involves a third wheel, namely older man Sonny Corinthos (Maurice Benard) and the secret baby Olivia shares with him. That baby, Dante Falconeri (Dominic Zamprogna), is about the same age as Johnny. What does Barash think about the age difference between his character and LoCicero's Olivia? "The thing that I find the most odd is on the show they play it up to be this huge age difference, but in real-life we're just 9-years apart." Speaking of LoCicero, fans got on my case when I mentioned that the actress looked a little like film star Sandra Bullock, but Barash thinks "she's prettier."
What happens when Kirsten and Brandon learn their characters will be involved in another love scene? What are their reactions?
Kirsten Storms: "I [say] it all the time. 'I have to take my clothes of with who?"'
Brandon Barash: "I'm taking my clothes off again? I just did it yesterday."
Don't think Barash hasn't thought about it, but what would it be like for Johnny being a daddy in the future? "I think that would be very interesting. I wouldn't be opposed to that." As for the loss of Claudia's baby, which he didn't divulge during the time this interview took place, he says "It's always sad, the loss of any baby born or unborn is always a sad thing. [If or] when that happens, you'll see some very interesting drama."
The World of Twitter
Fans have noticed that the two Tweet each other often, and some wonder if they realize that their fans are following everything they say. According to Storms, "When he says something outrageous, I have to call him out on it." As for Brandon, he finds himself "Tweeting" when something strikes his interest. "It all depends on where I am and if something strikes me as interesting, I will 'Tweet' about it," he says.
"General Hospital" airs Weekdays on ABC. Weeknights on SOAPnet. Check local listings.
---
Discussion: One Time at Fan Camp: Brandon and Kirsten

---
SOAPnet
ABC
ABC.com
General Hospital
Sarah Joy Brown
Kirsten Storms
Maurice Benard
Bradford Anderson
Julie Marie Berman
Brandon Barash
Dominic Zamprogna
Lisa LoCicero
Fan Club Weekend
Maxie Jones
Johnny Zacchara