Friday, July 3, 2009 8:00 AM ET | By Angela Rosa
---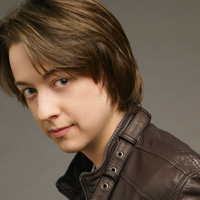 (SoapOperaNetwork.com) — Giving love a voice.
THIS WEEK ON: GENERAL HOSPITAL [Revised]
Carly throws Sonny and Michael for a loop on Monday, July 6, when she not only under reacts to Michael's stunt but hands him a temporary driver's permit. Maxie and Spinelli, separately, turn to Patrick for help in avoiding a Karaoke night disaster. On Wednesday, July 8, an impressed Maxie overhears Spinelli singing like an angel. Spinelli tells Maxie that his love for her made him sing better; a fraud that threatens to be exposed when Spinelli's pitch enhancing device lands right into a pitcher of beer. Unable to continue to fight Maxie's pressure to perform…at Karaoke night, a terrified Spinelli takes to the stage on Monday, July 13! Rebecca, Nikolas, Ethan, Lucky, Lulu and Elizabeth all end up at Jake's inaugural Karaoke night on Friday, July 10. Rebecca tells an angry Ethan that she refused Nikolas' offer to supplement her salary. Ethan's jealousy mounts as he watches Rebecca and Nikolas together. Jason temporarily loses his ability to speak when he finds Sam in a very sexy outfit (for the job).
The Inside Story: The (New) Family
Sonny orders Jason and Johnny to eliminate the Zacchara gunman that menaced Carly and his boys. Johnny and Jason eliminate two more gunmen upon arrival at the Zacchara hideout but find that they've just missed their real target, Dominic, again. Dominic grabs Olivia … who greets him as her son (with Sonny), Dante. Mother and son get reacquainted but keep their secrets in tact on Wednesday, July 8. Jason is brought in for questioning pertaining to the murdered Zacchara gunmen. On Friday, July 10, Dominic puts his life at risk when he arrives at Sonny's just as Carly's there to identify the Zacchara gunman. Anthony lies through his teeth and claims to be faultless in causing the strife between Sonny and the Zacchara's when Jason pays him a visit on Monday, July 13. Sonny ignores Claudia's objections and tells Dominic he's going to give him a chance to prove himself. Claudia and Sonny's strife continues. Sonny heads to Olivia's where their heated argument ends with a passionate kiss.
A Closer Look: Crime & Justice
Andrea eavesdrops on Robin telling Patrick that she believes Andrea is the real murderer. Alexis becomes the unfortunate victim of Andrea's agenda to throw Patrick and Robin off her scent on Monday, July 6. After a close-call with Kristina at Alexis' house, Andrea plants e-mails on Alexis' computer that make it seem as though she is obsessed with Mayor Floyd. Kristina promptly finds the e-mails and angrily accuses her mother of being a liar. Forging on with her plot, on Thursday, July 9, Andrea invites Alexis to meet her at the Metro Court and creates a scene which makes the D.A. look very bad right in front of Patrick and Robin. Diane begs Jason to stay in jail a little bit longer to help Alexis with her image problems. Patrick grows suspicious of Alexis. Diane informs Alexis that the e-mail's have been made public. Alexis learns she's been suspended from her duties as D.A. on Friday, July 10.
General Hospital News and Headlines:
GH ALERTS: WEEK OF JULY 13, 2009
"General Hospital" airs Weekdays on ABC. Weeknights on SOAPnet. Check local listings.
---
General Hospital
GH
Kirsten Storms
Laura Wright
Steve Burton
Maurice Benard
Jason Thompson
Drew Garrett
Ronnie Marmo
Jason Morgan
Carly Corinthos
Sonny Corinthos
Patrick Drake
Maxie Jones
Damian Spinelli
Michael Corinthos
Ronnie