Friday, July 10, 2009 8:00 AM ET | By Angela Rosa
---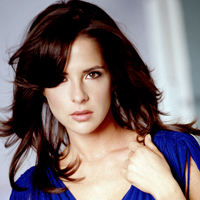 (SoapOperaNetwork.com) — The mating dance.
THIS WEEK ON: GENERAL HOSPITAL
Sonny agrees to give Dominic another chance on Monday, July 13. Olivia wants Dominic to leave Port Charles. Dominic gives Sonny inside information in an effort to prove his loyalty. Jason remains unsure of what to make of Dominic. On Tuesday, July 14, Sam and Jason end up very close after a mishap on the stairs. Robin remains suspicious of Andrea. Ethan tells Rebecca that he's going to tell Nikolas everything if she doesn't quickly collect ten grand for him. Rebecca turns to Edward for help. On Thursday, July 16, Rebecca finds that she's in no place to challenge Edward's term that she move in to the mansion in exchange for his loan. Nikolas is upset when he learns about Rebecca's move. Jax takes Carly to their new house. The tension is thick between Michael and Kristina's boyfriend, Keifer. Keifer plays innocent after provoking Michael into attacking him on Friday, July 17. Carly turns to Sonny for help with Michael. Keifer's temper flares when Kristina rebuffs his advances.
The Inside Story: Love Game
Unable to continue to fight Maxie's pressure to perform…at Karaoke night, a terrified Spinelli takes to the stage. Things aren't looking good as Spinelli starts to sing without his pitch device. In a Cinderella-like moment, Spinelli finds his voice and sweeps Maxie off her feet after returning to the stage on Tuesday, July 14. Maxie and Spinelli make love. Spinelli shakes Maxie up with an impromptu marriage proposal on Wednesday, July 15. Jason advises Spinelli to slow down. An unexpected promotion from Kate leads Maxie to believe that not accepting Spinelli's proposal was the right move. Spinelli turns to Max and Diane for advice. Newly determined to get a "Yes" from his true love, Spinelli commandeers the public address system at the Metro Court on Thursday, July 16. The love-sick puppy's next move consists of sending Maxie a poem of clues in the hope that she will follow it to the romantic destination he set up.
A Closer Look: Turning Back Time
Sonny storms off and heads to Olivia's place after another confrontation with Claudia. Olivia and Sonny's argument ends with a surprise. On Tuesday, July 14, Olivia responds to Sonny's kiss, much to the arrogant mobster's delight. Olivia doth protest too much as she declares that she will never, ever sleep with Sonny. Claudia's temper flares when she sees Olivia's lipstick on Sonny's collar. The day of Claudia's amnio arrives. Johnny wonders what Sonny will do to his sister if she's not carrying his baby. Sonny confronts Johnny on Thursday, July 16, informing him that Olivia wants to be with him now. Olivia adamantly refutes Sonny's claim. Sonny arrives at the hospital in time for Claudia's ultrasound, which leads to a warm moment. The cold front returns as Sonny and Claudia await the paternity test results on Friday, July 17.

General Hospital News and Headlines:
GH ALERTS: WEEK OF JULY 20, 2009
"General Hospital" airs Weekdays on ABC. Weeknights on SOAPnet. Check local listings.
---