Friday, July 31, 2009 8:00 AM ET | By Angela Rosa
---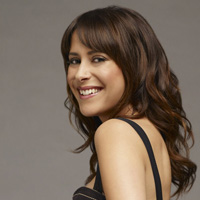 (SoapOperaNetwork.com) — The path less taken.
THIS WEEK ON: GENERAL HOSPITAL
Still on his game, a busted up Dominic is thrown off when Lulu takes him to a less than romantic "room" to recover on Monday, August 3. Edward's forbiddance sends a disappointed Nikolas to Jake's on Tuesday, August 4, where he ends up sharing shots with his brother's girl. Ethan pours out his heart to Rebecca. Alexis is arrested. Robin is determined to prove Alexis' innocence and is one step closer to her goal when she deduces Brianna's killer was right handed and Alexis is not on Wednesday, August 5. Jax enlists Morgan and Max into his mission on Thursday, August 6. Olivia's craving for Johnny creates a mortifying situation for her and Dominic. An upset Dominic reveals his real occupation to Olivia. On Friday, August 7, Spinelli arrives at the Scorpio family dinner intent on asking Mac the big question. Molly faces Keifer's wrath.
The Inside Story: Twists & Turns
Jason and Sam grow closer as they follow Michael and Kristina's trail. Kristina's guilt becomes more palpable. Intent on using the young man as bait to get to his real target – Jason, Jerry informs Claudia that he has no intention of calling off the search for Michael. Sam is closer to Michael and Kristina than she realizes but Jerry is even closer as the kids near the Mexican border. Jerry continues to keep one step ahead of Sam. Michael and Kristina's dance with danger proves fruitful for Mr. Jacks on Friday, August 7. Jerry works on gaining Michael and Kristina's trust after saving their lives. Sam gets more than she bargained for after finally spotting the kids.
A Closer Look: Big Decisions
Parting from Sonny proves to be full of sweet sorrow for Olivia, who later clears the air with Johnny. Claudia is sure she'll be able to make things work with Sonny, who figures that he can't continue pushing and pulling his wife away. On Tuesday, August 4, a conflicted Sonny explains to Claudia that whatever he's feeling for is clouded by his belief that she may have played a part in Michael's shooting. Claudia insists she had nothing to do with Michael's shooting and wonders if they may be able to grow closer over the loss of their own child. Moved by the sentiment, Sonny tells Claudia he wants her to return home with him after she's released from the hospital. Sonny decides to take things one step at a time with Claudia. Johnny, on the other hand, cuts Claudia off after catching her on the phone with Jerry.
General Hospital News and Headlines:
GH ALERTS: WEEK OF AUGUST 10, 2009
"General Hospital" airs Weekdays on ABC. Weeknights on SOAPnet. Check local listings.
---