Monday, July 27, 2009 6:13 PM ET |
By Angela Rosa
---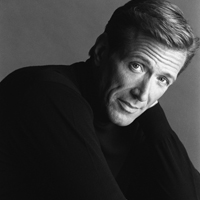 (SoapOperaNetwork.com) — Find out who's in and who's out on "All My Children" this August.
In their latest issue, Soap Opera Digest reports that Walt Willey's character, Jackson Montgomery will be heading off to Europe. The trip will be off-screen and for an undisclosed amount of time. Willey will air just once in August (during the week of Aug. 17th). Many fans feel this is ominous news for the 20 year "All My Children" veteran who was recently pulled into the show's consuming murder-mystery storyline after a long period in the backburner cafe. ABC assures that "this is just the way the storyline is going now, nothing more." Willey is currently performing in a one week tour of a community production of "The Odd Couple" in Ottawa, Illonois, alongside "AMC's" Jill Larson
Stuart Chandler, played by the great David Canary, will make at least one more appearance on the soap. Stuart, who last paid a "helpful" visit to the prime suspect in his murder, Kendall (Alicia Minshew), on Friday, July 24, will appear to Mrs. Slater again on Wednesday, August 5.
Stuart's wife's next hiatus from "AMC" could very well be a long one as Marian Colby Chandler is carted off to a psychiatric facility after she shoots one of Pine Valley's citizens. Jennifer Bassey's Marian takes aim on Friday, August 7.
In other "AMC" casting news, Anna Koonin returns as David Hayward's (Vincent Irizarry) loyal personal nurse, Gayle, for a couple of episodes beginning on the week of August 24. Lorenzo Pisoni, who has played A.D.A. Andrew Willis since Friday, July 10, and Stephanie Gatschet, who has played the Madison North since Friday, June 19, will continue to air on "AMC" throughout the summer. Look for Joel Fabiani to put in a few appearances as Adam's favorite attorney of the past decade, Barry Shire, beginning on the week of August 17. Shannon Kane will have a big August as Jesse Hubbard's (Darnell Williams) headstrong daughter from another mother, Natalia Fowler. Jill Larson's frequent airings came to an abrupt halt in July – but don't worry, Opal Cortlandt will be seen a lot more in August. On the opposite end of the spectrum, J.R. Martinez's Brot Monroe all but disappears for the month.
"All My Children" airs Weekdays on ABC. Weeknights on SOAPnet. Check local listings.
---
Discussion: 'AMC's' August Casting Notes
---
All My Children
AMC
Shannon Kane
JR Martinez
Brot Monroe
Walt Willey
David Canary
Jennifer Bassey
Lorenzo Pisoni
Andrew Willis
Jackson Montgomery
Stuart Chandler
Marian Colby
Anna Koonin
Nurse Gayle
Stephanie Gatschet
Madison North
Natalia Fowler
Jill Larson
Opal Corlandt