Friday, July 17, 2009 8:00 AM ET | By Angela Rosa
---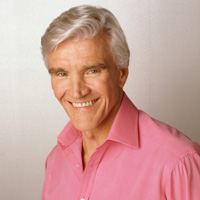 (SoapOperaNetwork.com) — What truths may come.
THIS WEEK ON: ALL MY CHILDREN
On Monday, July 20, David's flirtation with Liza ceases after her comment about children hits the doctor hard. Jake and Amanda introduce baby Trevor to a surprised Tad on Tuesday, July 21. Taylor volunteers to help Jake and Amanda hide Trevor from David. Liza's unexpected arrival puts Taylor, Jake, Tad and Amanda in a pickle. Tad tries to work Liza on Wednesday, July 22, while the rest of the gang tries to sneak out with baby Trevor. Tad and Taylor's bond grows. Randi receives North's murder weapon in the mail on Thursday, July 23. Frankie shows Brot the text message he received that questions the paternity of Randi's baby. Jesse rushes Randi to the hospital after she doubles over in pain. Randi has a miscarriage. Frankie tries to be strong for Randi. Jesse confronts Madison on Friday, July 24.
The Inside Story: …All Alone with the Memory
Emma and Scott both cover for Annie on Monday, July 20. Adam is impressed as he watches Annie attempt to cut a deal with Willis; JR is not. Kendall explains to a resistant Zach, Erica and Ryan why she feels she has to take the plea bargain. Zach takes Kendall in his arms to comfort her. On Tuesday, July 21, Marian demands Liza cease representing Kendall or else. The Slater's are honest about their feelings for each other. Kendall goes to Willis' office with Zach and Liza, prepared to accept the plea bargain.
Willis informs Kendall, Zach and Liza that the plea deal is off the table due to Emma's impending eyewitness account and tells them that he's going after a murder one conviction. Erica tries to reassure Kendall. Ryan and Erica hide Emma at a safe house. Kendall confronts Emma about her story on Wednesday, July 22. Ryan draws the line after a desperate Kendall ends up scaring Emma. Emma swipes Erica's phone. Zach scoffs at Liza's suggestion that they take a play from Annie's book and manipulate Emma in an effort to create reasonable doubt. Jesse tells Zach that he'll try to stall Willis for a while longer. Jesse later arrives at the mansion to question Annie, who is shocked when Emma calls her from Erica's phone. Annie quickly ends the call and makes up a story. Ryan tries to convince Annie that they can't put Emma through the trauma of testifying at the murder trial. Unable to reach Ryan, Erica calls Zach when Liza arrives to question Emma. Zach gets an idea when Liza points out that somebody other than Ryan needs to talk to Emma.
Adam is unsettled after reading the file on Annie that Willis provided. Meanwhile, while helping Scott go through Stuart's things in the Chandler attic, Annie has a telling memory of the night of Stuart's murder. Adam also has an interesting memory of that night; one that prompts him to accuse Annie of murder on Thursday, July 23. Zach gently probes Emma about the night of the murder. Ryan arrives on the scene just as Emma is about to reveal something important. Zach and Liza face Ryan's ire. Erica and Ryan take a withdrawn Emma to the hospital. Kendall, on the verge of losing all hope, conjures up Stuart in her mind. Stuart tells Kendall that he'll help her get to the truth on Friday, July 24. Kendall goes to the mansion to tell Adam she's sorry after remembering more from the night of the murder. Adam apologizes to Annie for his accusation. Zach finds Kendall, who tells him that she thinks she killed Stuart. Adam hands a recording of his and Kendall's earlier encounter to Willis.
All My Children News and Headlines:
AMC ALERTS: WEEK OF JULY 27, 2009
"All My Children" airs Weekdays on ABC. Weeknights on SOAPnet. Check local listings.
---