Saturday, June 6, 2009 12:10 AM ET |
By Scotty Gore
---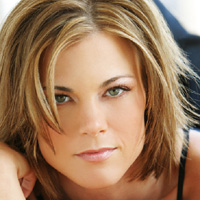 (SoapOperaNetwork.com) — Daytime Emmy-Award winning actress Gina Tognoni is 'thisclose' to signing a contract to return to "One Life to Live" when "Guiding Light" bites the dust this fall, according to TVGuide Canada's The Suds Report.  
Tognoni, a former Miss Rhode Island Teen USA and Miss Rhode Island Teen All-American, made her soap debut on "One Life to Live" as the fiesty, rebellious teen Kelly Cramer (neice of Dorian, cousin to Cassie and Blair) in 1995.  After a successful run in Llanview, the actress left the soap in 2001; only to reprise the role briefly in 2002.  Two years later she returned to her daytime roots as Dinah Marler on "Guiding Light."  Tognoni was nominated for a Daytime Emmy in 2006 (which she won) and 2007.   In Tognoni's absence from "OLTL," the role of Kelly was recasted twice — first with Tracy Melchior (2003), then with Heather Tom (2003-2006).  It was while Tom portrayed Kelly that the character also made appearances on "All My Children" (2004-2005), as part of a complicated baby-switch storyline which played out on both soaps. 
Now, with"GL" expected to end its historic 72-year run in September, speculation that Tognoni may be heading back to Llanview has started to increase.  The Suds Report has revealed that, according to an set-side source, the 35-year-old star has recently turned down offers from two west coast soaps ("The Bold and the Beautiful" and "The Young and the Restless"), because she "wants to stay in New York with her new husband." However, it appears that "OLTL" would be a perfect fit for actress, given that Tognoni is a an alum and that the soap is taped in the Big Apple. 
And, if everything falls into place, Tognoni could be back in Llanview as early as late fall.  However, it remains to be seen if Kelly Cramer would return to town alone, on the arm of beau Kevin Buchanan (last portrayed by Dan Gauthier, 2003-2006; 2007), or with son Zane. 
SON will continue to follow this story and keep you posted on any further updates.    
In other news… 
Scott Henderson, director of publicity for Canada's CTV Network, tells TVGuide Canada that "With respect to 'One Life to Live,' unfortuantely we were unable to find a spot for it on on our schedule, and did not renew [our licencing contract with ABC]. With 'Dr. Oz' joining CTV, 'General Hospital' moves to 'A,' partnered with 'Ellen,' to reinforce a strong afternoon lineup."  The network announced earlier this week that it was dropping "OLTL" from its daytime line-up this fall, and replacing it with reruns of the recently ended primetime medical drama "ER." 
The mother of Sullivan triplets Maddie, Tess, and Molly (the adorable babies who portray Hope Manning McBain) has posted new upcoming airdates for the tiny tots.  Viewers can watch "OLTL" on June 5th, 8th, 11th, 12th, 15th, 16th, 17th, 19th, and 29th, along with July 20th and 22nd, to try and determine which triplet is which. 
"Soaps Up!," a daily soap news recap report, which airs between "All My Children" and "One Life to Live" on CTV in Canada, is linking the recently released "OLTL" audtion script for the role of "Ford" with the summer return of Tuc Watkins to Llanview as David Vickers Buchanan.  It appears the sudser is looking to create a reality series within a soap, called "The Real Ladies of Llanview,"  and that it will someone involve the newest Buchanan heir.  And people say "OLTL" Head Writer [Re-]Ron Carlivati can't pen an original storyline to save his career. 
Also, for those who don't think that "OLTL" has issued enough casting calls in recently, here is a yet another one.  Seems the show is now looking to cast the character of "Griffin."  Keep in mind that "OLTL" switches character names in audition scripts.  Nonetheless, it appears that Llanview is about to get some gay characters.  The scene opens with "Griffin" and "Daniel" in a bar on their first date.  He tells Daniel that his friends are welcome to join them, to which he replies that they are not his buds.  Daniel goes on to say that where they are is fine, even though the jukebox has only old songs on it.  He then apologizes for so uptight and tells Griffin that he's not usually like that, but that he hasn't been out on a date in forever.  This catches Griffin by suprise, and he tells Daniel that he seems like the kind of guy that really has it going on.  Daniel says that he used to, but that his social life has been non-exsistant lately. Griffin starts to ask him about his last boyfriend, and Daniel responds that the break-up has left him suspicious of other guys.  He then tells Griffin that his ex is a great guy, but that he keeps things bottled up, and is still in the closet.  Afterward he says that he is not usually this bitter and that he can take care of himself.  When Griffin replies that he knows, Daniel asks where he heard that since they only met earlier that day.  Griffin says that after Daniel left the gym, a male cop approaches him and urges him to watch his back.  Daniel asks him if the cop was cute and had short blond hair.  When Griffin responds in the affirmative, Daniel confesses that he and the cop have a long history together.  End of scene.  Hmmm….who could this script involve?  Kyle and Fish perhaps?  Only time will tell.  Remember that this role has yet to be cast, and that "OLTL" regularly tapes about four to six weeks in advance.  So it will be a few months before we will see this play out on screen. 
"One Life to Live" airs weekdays on ABC. Weeknights on SOAPnet. Check local listings.
---
Discussion: 
Will Gina Tognoni Find New 'Life' in Llanview? 
---