Monday, June 15, 2009 3:34 AM ET |
By Scotty Gore
---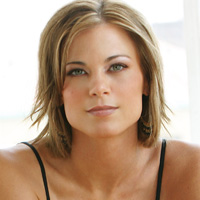 (SoapOperaNetwork.com) — Despite earlier reports that she was 'thisclose' to signing a new deal with "One Life to Live" to reprise her signature role of Kelly Cramer, it now appears that Gina Tognoni won't be returning to Llanview after all. 
With the demise of "Guiding Light' all but certain come September, speculation recently began to surface that the actress, who has portrayed Dinah Marler since 2004, might be interested in returning to her old stomping ground of Llanview.  As the rumors persisted, numerous media outlets reported that Tognoni and ABC were in negotiations.  It appeared as if a deal was nearly finalized. 
All that changed late last week when TVGuide Canada's The Suds Report broke the news that the two sides had failed to reach an agreement.  Apparently the sticking point appeared to be Tognoni's salary, should she agree to return to "OLTL" in the role she originated in 1995.  A set-side source revealed to The Suds Report that "She asked for too much money, so ABC passed."
Information surfaced recently that Tognoni apparently turned down offers from two west coast soaps ("The Young and the Restless" and "The Bold and the Beautiful") in order to remain in New York City with her new husband.  The Daytime Emmy winner is also reported to have turned down the role of Carly on "General Hospital" (which was originated by Sarah Brown).  That's leaves "All My Children" and "As the World Turns" as the only potentially viable offers for Tognoni in terms of daytime soaps.  And given that she turned down "GH" and demanded too much money from "OLTL," it would seem unlikely that ABC would be very eager to offer her a job on "AMC."  And, as far as "ATWT" goes, its future appears rocky at best.   But, after all, this is daytime television, and stranger things have happened. 
SON will continue to follow this story, and bring you more details as they become available.
"One Life to Live" airs weekdays on ABC. Weeknights on SOAPnet. Check local listings.
---
Discussion:
Gina Tognoni Finds She Has No New 'Life to Live'
---