Friday, June 12, 2009 8:00 AM ET |
By Angela Rosa
---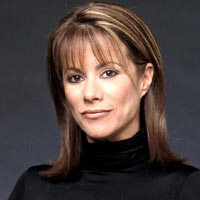 (SoapOperaNetwork.com) — What's your secret?
THIS WEEK ON: GENERAL HOSPITAL
Maxie, Spinelli and Johnny find themselves in the middle of a reeling Matt's storm at Jake's on Monday, June 15. Jason ends up knocking out an undercover cop in his rush to come to Sam's aid. Ric confronts Sonny with the belief that Claudia is carrying his child. Ethan reminds Rebecca that he's the boss. Tracy finds Ethan and Rebecca in a suspicious situation. On Thursday, June 18, Claudia once again makes plans for Jason's elimination; meanwhile, Olivia fears Sonny is planning Johnny's and turns to Carly for help. Nikolas comes to the conclusion that he has to end things with Rebecca until talking with Monica. Things take a lethal turn as Johnny and Jason head to meet with their associates. Sonny and Claudia's fight erupts into passion. Johnny holds Jason's fate in his hands on Friday, June 19.
The Inside Story: Dirty Politics
Alexis admits to Diane that Mayor Floyd has asked her to help make the Hughes' family suit against Matt disappear quickly. After learning about Brianna's death, Sam informs Jason and Spinelli that she had been hired by the Mayor's wife to get proof of her husband's extramarital activities. Patrick finds himself named as a co-defendant in the Hughes' malpractice suit after making an inadvertent slip in front of Diane on Tuesday, June 16. Diane becomes suspicious and questions Alexis' true motives when the lawyer once again tries to persuade her to get the suit against Matt and Patrick dropped. On Wednesday, June 17, Robin and Patrick hit the showers to try to figure out how Brianna Hughes really died. Maxie and Spinelli try to find dirt on Mayor Floyd. Mac keeps quiet after spotting Spinelli and Maxie hiding in the Mayor's office but later sends Robin to give Maxie a warning. Robin is surprised to learn that the Mayor's wife was pursuing an investigation against him. Patrick, meanwhile, gets a surprise visit from Andrea Floyd (Martha Byrne), the Mayor's wife. Andrea tells Patrick she wants him to get the malpractice suit settled outside of court in order to avoid scandal.
A Closer Look: Anger Management
Carly heads to Sonny's place after learning Michael is safe and sound there. Michael and Claudia continue to enjoy their easy rapport. The former Mrs. Corinthos insists that Michael needs to be home with her, but Sonny disagrees. In her never-ending game of survival, on Monday, June 15, Claudia takes Carly's side in the Michael situation in an attempt to score points. Michael agrees to go home with Carly but the air is still thick between mother and son. On Tuesday, June 16, Michael confesses to Kristina that he's terrified that he's going to end up hurting someone he loves. Jason, meanwhile, confides his fears about Michael to Sam and asks her to have a talk with Kristina. Michael chooses to go to Jake's instead of physical therapy and ends up in a bar fight with Kristina's friend, Kiefer. Kristina is terrified when Kiefer ends up knocking Michael out. Alexis finds the siblings at Jake's and drags them home. On Friday, June 19, Michael erupts into a violent outburst towards Carly just as Jax walks in.
General Hospital News and Headlines:
GH ALERTS: WEEK OF JUNE 22, 2009
Carly makes a touch decision after seeing how volatile Michael is first-hand. (Soap Opera Digest)
Claudia's lethal orders once again threaten the life of one of Carly's children on Monday, June 22. (ABC Soaps In Depth)
Ric and Andrea plot to keep their plan alive on Wednesday, June 24. (TV Guide Canada)
Patrick and Robin continue their investigation of Brianna's death. (Soap Opera Digest)
"General Hospital" airs Weekdays on ABC. Weeknights on SOAPnet. Check local listings.
---