Tuesday, June 16, 2009 11:48 PM ET |
By Scotty Gore
---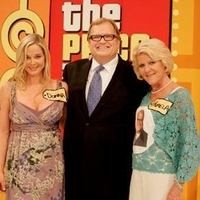 (SoapOperaNetwork.com) — Pam Douglas and Donna Forrester come on down!  You're the next contestants on "The Price is Right," as host Drew Carey brings the iconic daytime game show to "The Bold and the Beautiful." 
While watching an episode of her favorite daytime game show, "The Price is Right," Pam Douglas (Alley Mills) has a brillant idea.  She immediately picks up the phone and schedules a meeting with the show's producers to discuss to the possibility of offering Forrester dresses as prizes on the show.
Her good friend Donna Forrester (Jennifer Garies) soon gets wind of her latest endevour and decides to join her in traveling to the "Price is Right."   Unfortunately, Pam turns out to be a slow driver, and causes them to miss their appointment.  Arriving on the set too late, they are promptly turned back by security.  However, they decide to sneak in as audience members to watch the show, only to have their names called to 'come on down' and be contestants during a taping of the game.
In addition to Drew Carey, "Price is Right" announcer Rich Fields will also appear, along with the game show's prize models Lanisha Cole, Amber Lancaster, and Rachel Reynolds.  And "Price is Right" co-executive producer Mike Richards and his assistant Stan Bilts makes their soap debuts as audience interviewers. The scenes are to set to air this Wednesday and Thursday (June 17th and 18th).   
"The Bold and the Beautiful" airs weekdays on CBS. Anytime on CBS.com. Check local listings.
---
Discussion:
Drew Carey Gets 'Bold and Beautiful'
---