Tuesday, June 2, 2009 10:35 PM ET |
By Scotty Gore
---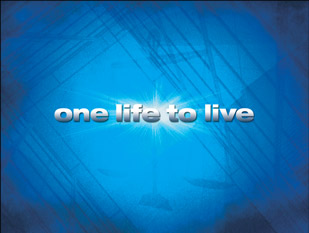 (SoapOperaNetwork.com) — This fall, as American soap fans continue to get their daily dose of Llanview happenings, our neighbors to the north won't be so lucky, as Canada's CTVglobemedia network announces plans to stop airing "One Life to Live." 
The formal announcement came earlier this afternoon by CTVglobemedia as the network unveiled its upcoming daytime fall schedules for its CTV and 'A ' channels.  Taking the place of "One Life to Live" on the 'A' Network at 2:00 pm will be reruns of the popular American primetime hospital drama "ER," which wrapped up its fifteen year run last month.   The medical sudser will be sandwhiched between "All My Children," which will remain in it's current spot at 1:00 pm, and "General Hospital,"  which will move from CTV to 'A' and air at 3:00 pm.   CTV, meanwhile, will become a one soap network, with only "The Bold and the Beautiful" airing on its daytime line-up. 
The release goes on to remind viewers that all scheduling times announced are for the Toronto market, and that other markets will be released at a later date.  And "One Life to Live's" Canadian fans are reminded that they can still catch their favorite soap on the ABC Network feed. 
The move comes in a time of economic recession when many television networks and sitcoms are being forced to slash budgets and find new sources of revenue in order to continue to exist.  CTV, like its American counterparts, is no exception.  The decision to cancel "One Life to Live" appears strictly financial, as viewership for the soap has apparently dropped below what the Canadian broadcaster considers an acceptable level, causing the network to lose money on the show, and leading to its removal from the schedule.  While many pundits claim that the move is "not a big deal" since many Canadians are able to receive signals from most American broadcast networks (ABC included), the move does have some long-ranging ramafications.  ABC and parent company Disney, for example, are set to lose some international licensing revenue as a result of the cancellation.  Regardless, "One Life to Live" will continue to air on the ABC Daytime line-up in the same time slot it has held for more than thirty years.  Even so, the announcement comes as little comfort to American soap fans whose memories are still fresh from the fallout surrounding the cancellation of the long-running daytime drama "Guiding Light" by CBS back in April, and how easily their favorite soap could be the next to go in a rapidly decaying daytime genre.     
Soap Opera Network will continue to follow this story and bring you more details as they develop. 
"One Life to Live" airs weekdays on ABC. Weeknights on SOAPnet. Check local listings.
---
Discussion:
Breaking News: Canadian Network CTV Cancels 'OLTL'
---