Wednesday, June 3, 2009 3:00 AM ET |
By Angela Rosa
---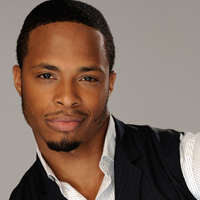 (SoapOperaNetwork.com) — "All My Children's" June 2009 casting news.
Cornelius Smith Jr. returns to the role of Frankie Hubbard on Friday, June 5. The character was last seen on April 24. According to "All My Children" head writer Charles Pratt Jr. the Emmy nominated actor, who joined the show in the fall of 2007, has supposedly been in contract talks that left him with no other choice but to make the good doctor disappear for a while. Frankie won't just have a life altering injury to deal with when his wife's (Denise Vasi) past becomes very present later this summer.
Kieran Campion premiered in the recurring role of D.A. Henry North on Friday, May 22. Randi's aforementioned dirty little secret is directly tied to the new District Attorney. North's wife, Madison (played by GL alum Stephanie Gatschet), will premiere on Friday, June 19. Madison's considerable issues could prove to be advantageous to the Slater's as the young ladies ambitious husband refuses to even phantom looking at any other suspect after getting the daughter of Pine Valley's most high-profile resident, Erica Kane (Susan Lucci), on his hook. Both roles are recurring and should last throughout the summer.
Amanda Baker, as previously reported, will be back on "AMC" as the ghost of Babe Carey on Thursday, June 4 and then again on Monday, June 29. Her first appearance will be opposite her shattered father, David (Vincent Irizarry); her next appearance will be opposite Babe's baby's father, JR (Jacob Young).
Beth Ehlers, who plays Taylor, and JR Martinez, who plays Brot, will be seen more in June. Unfortunately, it will just be for a little bit more than the three episodes each appeared on in May. Brot will be involved in Frankie's story, and look for Taylor to have a few more interactions with Tad Martin (Michael E. Knight). Watch for Brot and Taylor's romance to hit a major snag. Walt Willey's rotation will increase in June, when Jackson takes on the new D.A. as Kendall's (Alicia Minshew) attorney.
In day-player news, Anna Koonin's love-sick Nurse Gayle will make at least one more appearance on "AMC" in June. Meredith Patterson will begin to reappear in the role of casino assistant Francesca starting in mid-June.
Various reliable sources have reported that the rumors of Spike Hart Lavery, the biological son of Kendall Hart and Ryan Lavery (Cameron Mathison), being recast and aged are false. Alexander, Benjamin and Caleb Eckstein began playing Spike in July 2007. Spike, who has been absent recently, will be seen more regularly in June.
"All My Children" air Weekdays on ABC. Weeknights on SOAPnet. Check local listings.
---