Sunday, May 31, 2009 11:26 PM ET |
By Venus Stone

---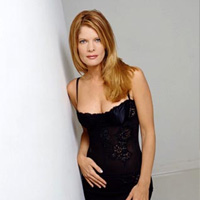 (SoapOperaNetwork.com) — Change of mind; change of heart…
THIS WEEK ON: THE YOUNG AND THE RESTLESS
Daniel comes clean to Jana about what he's up to, Monday, June 1, but on Tuesday, June 2 his mistake could cost him dearly. Paul lets Nikki know that he's got his eye on Mary Jane Benson
The Inside Story: Unable to Move On
After Nick kisses Sharon and tells her that he wants her with him, Sharon, unphased tells him that she can't do it. Nick is crushed at her decision to stay away from him and tries to talk to her about how he wants her. Sharon points out that she will not be involved with Nick ending his marriage to Phyllis and breaking up his family, but Nick, unable to accept what she is saying continues to beg her to come back to him. Meanwhile, Phyllis realizing that Nick and Sharon are once again together makes her move by getting to Restless Style before anything can happen. When she does arrive, she realizes that she's interrupted something when they two exes are silent. Before Nick can confess anything to Phyllis, Sharon quickly points out that she and Jack will be getting back together so they can raise 'their' baby together. The minute Phyllis and Nick are alone, she's ready to grill him about their marriage but before Nick can say anything he wants to, Phyllis gets news about Summer and leaves. Back home at the Abbott mansion, Jack comforts Sharon and lets her know that despite what she has done, he wants to be with her and take care of her. He soon asks Sharon if she will marry him again but she tells him she has to really think about it. Later that evening, Phyllis and Nick are back face-to-face and she wants him to tell her the truth about their marriage. Phyllis becomes upset when Nick tells her that he thinks that the two of them may need to move on because he just can't shake his feelings for his ex. Furious at his revelation, Phyllis throws Nick out and soon finds herself in someone else's arms.
A Closer Look: Seeing Things
Ashley continues to spiral into her hallucinations but things take a different turn when she 'sees' Sabrina, who tells her that she is perfectly normal, unaware that Adam is the cause of her behavior. Victor continues to be greatly concerned about her wife, but Jack instantly wants to take control when he decides that the best place for his sister isnt' with Victor, but with him at the Abbott mansion.
What To Watch
Jill continues to plot with Jeffrey and Gloria
Mary Jane becomes desperate and instantly leans on Victor
Billy comes clean with Chloe
The Young and the Restless News and Headlines
Raya Meddine returns as the 'Ghost of Sabrina' Monday, June 1
Cobin Bernsen, real-life son to Jeanne Cooper (Katherine) will return to the show as 'Father Todd', Paul's brother. His first airdate is Tuesday, June 2
Tatyana Ali returns as 'Roxanne' on Wednesday, June 3
Formere LA Dodgers manager Tommy Lasorda will come to the show as himself Wednesday June 3

SON ALERTS: WEEK OF JUNE 8, 2009
Cane has reason to be worried when Nina digs into his past
Daniel becomes suspect #1
Mac tells Billy what he wants to hear
Mary Jane does what she has to do to keep Paul at bay
Adam's dirty deeds continue to plague Ashley
"The Young and the Restless" airs Weekdays on CBS. Weeknights on SOAPnet. Check local listings .
---
Discussion: Y&R PreVUE: Week of June 1 Edition
---