Friday, May 15, 2009 8:00 AM ET |
By Scotty Gore
---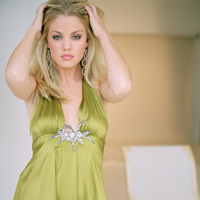 (SoapOperaNetwork.com) — I want my baby back.
THIS WEEK ON: ONE LIFE TO LIVE
Rex is comforted to learn that all is well with Shane after rushing the boy to the hospital for being under the weather on Wednesday, May 20.  Stacy proves what an immature little brat she is when she becomes jealous that a bond still exists between Rex and Gigi.  After Gigi drops by Rex's loft and orders Shane to pack his belongings, Stacy manages to convince Rex to allow Gigi to take Shane back home with her.  By Friday, May 22, Stacy is successful in getting Rex to agree to let her live with him as long as she needs to.  And Kyle informs Stacy that, if he goes down for what he's done, he's taking her with him. 
The Inside Story: Reliving the Past
Marty's memories come rushing back to her as she is trapped with Todd on Monday, May 18.  First she recounts the nightmare of the night she was raped, but then she remembers falling in love with Patrick and giving birth to Cole.  Meanwhile, Powell locks Blair and Téa in the boiler room.  After kidnapping baby Chloe from Llanfair, Rebecca meets up with Powell.  At the same time, a suspicious Starr and Cole find Kyle at Todd's house.  John is desperate to get to Marty and beats up Kyle when he refuses to provide any information, and asks Fish to take him back to the station.  John has better luck than Starr in coaxing a frightened Jack into revealing what happened.  Powell floors Todd and Marty with the news that Chloe is really their granddaughter, and that she is his ticket to getting revenge on Tuesday, May 19.  Marty puts her psychiatrist skills to the test by claiming Powell is the reason she got her memory back.  Calming down, Powell places Chloe in Marty's lap, only to see a look of relief on Todd's face, prompting his anger to return.  As Powell lunges for Todd's throat with a knife, Rebecca and John do battle with a syringe.  Managing to overcome Rebecca, John saves Todd and Marty and searches for Blair and Téa.  Todd and Marty head for the hospital to have Chloe checked out.  Across town, Blair and Téa pass out before Téacan reveal her big secret, but not before both proclaim Todd as the love of their lives.  Arriving in the nick of time, John comes to rescue the two women.  After removing Blair from the scene, Rebecca returns just as John is about to save Téa.  Shortly thereafter, the fraternity house explodes, leaving Téa trapped under the debris.  Hovering between life and death, Téa is rushed to the hospital.  On Friday, May 22, Michael shocks Todd with news that Téa's injuries could prove fatal.
A Closer Look: Baby Blues
Natalie and Jared contemplate the best way to break the news about Chloe to Jessica. Before they get the chance however, Jessica is forced to confess the truth about her and  Brody after Jared and Natalie catch them together at Llanfair on Monday, May 18.  Jessica has the feeling that Natalie is keeping something from her, but has bigger problems to deal with when Chloe turns up missing on Tuesday, May 19.  As Jared and Natalie bowl over Viki, Clint, and Charlie with the news that Chloe is really Starr's baby, Jessica's memory flashes back to Bess and the night Chloe was born.  Starr and Cole, meanwhile, work to ease Jack's fears.  Viki and Clint's hearts break as they realize that Jessica must be told that her baby died on Wednesday, May 20.  Tradegy is narrowly averted when Jessica's memories come flooding back and she passes out while in the car with Brody, who rushes her to the hospital.  After coming back to, Jessica tries to take baby Chloe from Marty's arms after hearing a infant crying.  On Thursday, May 21, Starr and Cole learn from Marcie and Michael that it is a different baby that's buried in Hope's grave.  Back at the hospital, Viki reaffirms Powell's claim to Marty and Todd, who agree that it is in everyone's best interests to give Jessica some time to digest the news on Thursday, May 21.  Overwhelmed with memories of Bess, Jessica hightails it out of the hospital with Chloe in tow.  Todd and Marty reunite wiht Starr and Cole, and inform the teens that they have something to tell them.  Viki, Clint, and Brody are horrified to discover both Jessica and Chloe missing.  After an emontional reunion with her children, Blair is informed by Marty that Chloe is really Hope.  Viki, putting two and two together, quickly realizes that Bess has retaken control in order to protect Jessica.  And, as she drives further away from Llanview with the baby, Bess temporarily loses control to Jessica while on the phone wth Brody on Friday, May 22, however, she quickly manages to regain control of the situation. 
One Life to Live News and Headlines
OLTL ALERTS: WEEK OF MAY 18, 2009
Markko and Langston learn of Lola's deception and reveal a deadly secret. (Canadian Cable Guide)
Téa makes it through surgery. (Canadian Cable Guide)
Blair, Marty, and Todd share some earth-shattering news with Starr and Cole.  (ABC Soaps in Depth)
Bess goes on the run with baby Chloe. (Canadian Cable Guide)
"One Life to Live" airs Weekdays on ABC. Weeknights on SOAPnet. Check local listings.
---
Discussion:
OLTL PreVUE: Week of May 18 Edition
---