Friday, May 15, 2009 8:00 AM EST |
By Angela Rosa
---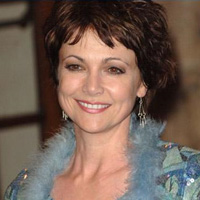 (SoapOperaNetwork.com) — Rude awakenings.
THIS WEEK ON: GENERAL HOSPITAL
Rebecca gives Alexis two weeks to dig up all the dirt on her that she can affording the attorney that she'll keep her hands off Nikolas during that time. On Monday, May 18, Rayner agrees to do dig up dirt for Alexis at a price: a date. Hot off another disagreement with Claudia, Johnny heads to Jake to drown his sorrows and ends up running into Olivia. Sonny gets an eyeful when he arrives at Olivia's after Johnny and Olivia really hit it off on Wednesday, May 20. After learning the information, Rebecca purposely wears a dress in Emily's favorite color to her date with Nikolas. On Thursday, May 21, Spinelli gets an earful while on his mission to find out why Kate is sabotaging Crimson. A bristling Claudia confronts both Olivia and Johnny. Sonny orders Olivia to stop seeing Johnny. Maxie reacts badly to the update on Johnny's love life.
The Inside Story: Bittersweet Moments
Lulu calls both Sonny and Carly to tell them the good news about Michael but can't reach Carly due to the fact that she has turned of all her phones. After sharing an emotional reunion with his son, Sonny sends Jason to find Carly to give her the news about Michael. Michael has a brief memory of seeing Carly leave his room with Jax moments before opening his eyes. Claudia privately worries that Michael may remember her bedside confessions. Overjoyed by the sight of her son awake, Carly is slow to pick up on her Michael's coldness. Jax warns an angry Michael not to upset his mother and ends up revealing that Carly is pregnant on Tuesday, May 19. Michael asks Carly if the new baby is his replacement. Olivia fiercely defends Sonny's place in Michael's life to Edward and Monica. Sonny tells Michael about the shooting and asks for his forgiveness. Jason shares his fears about Michael with a supportive Sam. Carly pours her heart out to her "sleeping" son. Carly blames Jax for the rift between her and Michael noting that he was the one who convinced her to leave Michael's bedside. A crushed Carly later overhears Michael berating her to Lulu. Lulu watches as Michael plays Edward, who is eager to take his grandson in. The results aren't pretty when Carly insists Michael move in with her instead of taking Jason's advice to give Michael some time and space.
A Closer Look: Truth & Dare
Ethan tells a stunned Lulu that he may be her brother. Holly avoids answering Luke's questions. Tracy bristles at the sight of Holly with Luke. Tracy later confesses to Lulu that she did tamper with Luke and Ethan's DNA test but honestly explains that she never learned the true results. A flirtatious Holly arrives at Patrick's place ready to settle in. Tracy and Holly draw battle lines over their hearts desire, Luke. Lulu and Lucky clash over Ethan. Elizabeth tries to make Luke see how his eager acceptance of Ethan as his son is hurting Lucky. Holly gives Luke and Ethan some answers on Friday, May 22.
General Hospital News and Headlines:
GH ALERTS: WEEK OF MAY 25, 2009
"General Hospital" airs Weekdays on ABC. Weeknights on SOAPnet. Check local listings.
---