Friday, May 29, 2009 8:00 AM EST |
By Angela Rosa
---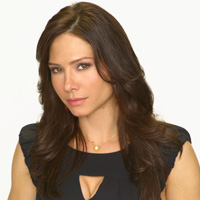 (SoapOperaNetwork.com) — Kiss of the spider woman.
THIS WEEK ON: GENERAL HOSPITAL
Nikolas and Rebecca give in to their attraction and make love on Wednesday, June 3. Rayner, meanwhile, informs Alexis that Rebecca was illegally adopted off the black market as a baby - which she may or may not already know. Patrick worries when Robin tells him that she can't be away from Emma on Thursday, June 4. Jason has his hands full with Kristina, who he encounters outside of a bar. Rebecca tells Helena she wants nothing to do with her. Kristina fills Michael in on her daddy issues. Alexis reveals Rebecca's shocking connection to Emily to Nikolas on Friday, June 5. Rebecca reunites with her secret cohort, Ethan.
The Inside Story: Borrowed Time
Claudia is privately thrilled that Michael has taken a liking to her; meanwhile, a crushed Carly has no choice but to accept the turn of events. Michael is affected by his reunion with Morgan on Monday, June 1, and has a change of heart about going to live with Sonny after his little brother asks him to come back home with him, Carly and Jax. Jason doesn't play the tape of Claudia ordering the hit on Jerry for Sonny but does tell him in no uncertain terms that he believes Claudia is capable of anything, including having played a part in Michael's shooting. Johnny warns Claudia that Jason has solid evidence against her. Claudia is shaken when a drowsy Michael mentions remembering some snippets from her hospital visits. Carly and Sonny's discussion about Michael ends in a warm moment that a bristling Claudia witnesses. Jason tries to get a handle on Michael who blows up at Robin. Claudia threatens Olivia. Johnny informs a shocked Claudia that he'll hand her to the enemy on a platter if she harms Olivia. Claudia tries to get an uninterested Jax in on her mission to keep Carly away from Sonny. Sonny begins to wonder if Michael should come live with him after all after a private session of Claudia subtly playing Michael against Carly. Claudia's uneasiness returns when Michael brings up her visits again. Claudia, Sonny, Carly and Jax realize Michael is missing from his room. A weak Michael, meanwhile, manages to leave the hospital and make his way to a surprised Kristina's room. Carly overhears Claudia talking to Johnny about Michael. The ensuing confrontation ends in both women taking a fateful fall down the hospital stairs.
A Closer Look: The Ties That Bind
Holly admits to Luke and Ethan that they are indeed father and son. Ethan embraces Luke as his father but bitterly turns his back on Holly. Elizabeth convinces Lucky to give his father a chance and try to forgive him for his past mistakes. Lucky's resolve to forgive dissipates into anger when he sees his father sharing a farewell kiss with Holly. Holly tries to defend Luke to Lucky. Lucky can't let go of his anger towards Luke. Lulu has her hands full with Ethan but does manage to convince her new brother to give Holly a chance. Ethan embraces Holly on Tuesday, June 2. Luke and Holly share a bittersweet goodbye. Ethan and Luke decide to have a DNA test done without Tracy's knowledge.
General Hospital News and Headlines:
GH ALERTS: WEEK OF JUNE 8, 2009
"General Hospital" airs Weekdays on ABC. Weeknights on SOAPnet. Check local listings.
---