Tuesday, May 26, 2009 12:50 AM ET |
By Jermetria Lacey
---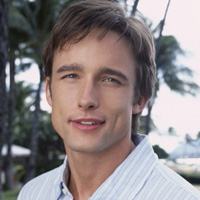 (SoapOperaNetwork.com) — "Days of our Lives" Episode Recap – Wednesday, May 20, 2009.
IT HAPPENED TODAY
EJ informs Philip he has Stephanie. At first Philip doesn't believe him and he rails on EJ, telling him this feud is between them, not their loved ones. EJ disagrees. Philip has his father and he'll do anything he can to get him back including taking Stephanie. EJ proves to Philip that he has her and gives a list of his demands. Philip says he can't release Stefano and EJ thinks he will if he wants to see Stephanie again. EJ tears up the contract for Titan to buy DiMera industries, saying it's null and void. EJ returns to the DiMera mansion convinced his father will come home alive. Meanwhile, Philip calls Victor saying the DiMeras have Stephanie. Philip meets with his father to plea for Stefano's release for Stephanie and Victor says no.
At the morgue, Owen opens the drawer for Stephanie, who plays calm. She realizes Owen's a bit sweet on her. She also learns it's the DiMeras who have kidnapped her. Stephanie tries to scare Owen at first, and then tries to sweet talk him. Later, she convinces Owen to let her out of the drawer and she knees him in the groin. Just as she is about to escape, her cell rings and thinking its Philip, she answers to EJ. Stephanie cries for help and EJ reacts.
Arianna accidentally spills hot coffee on Brady and she attends to the burn. Melanie arrives and checks it out and says he'll live. Arianna is sorry, but convinces Brady to buy her another cup of coffee. She learns he's Sami's step-brother and says she's not a fan. Arianna is intrigued to learn that Brady's not a fan of Sami either. Meanwhile, Melanie is considering posting Stephanie's stray earring online for auction, but decides against it. She leaves a message for Stephanie telling her she has her earring. Later, Brady offers praise on her decision, but a miffed Melanie can't believe she hasn't heard from Stephanie.
Sami and Rafe make love again and he thinks he needs to make a bigger commitment. Sami thinks he's talking about marriage, but he's talking about Grace. He wants to be her father.
On the Next Days of our Lives

Sami wonders if Rafe is proposing marriage.
Nicole realizes EJ is hiding family business from her.
Stephanie manages to escape the morgue.
"Days of our Lives" airs Weekdays on NBC. Weeknights on SOAPnet. Check local listings.
---