Tuesday, May 26, 2009 12:51 AM ET |
By Jermetria Lacey
---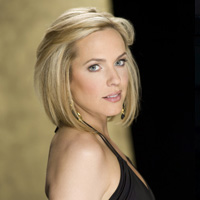 (SoapOperaNetwork.com) — "Days of our Lives" Episode Recap – Thursday, May 21, 2009.
IT HAPPENED TODAY
After Rafe offers to adopt Grace, Sami wonders if Rafe is proposing marriage. Before he can answer, she says that as much as she loves him, she's not ready to marry him. Rafe says that's good because he wasn't proposing. Sami is shocked. She says she can't marry Rafe because she wants to avoid the mistakes of past relationships and not rush into things. Rafe agrees. They both agree to take things slowly. Sami tells Will that Rafe is adopting Grace. Will is convinced Sami is manipulating something. Meanwhile, Arianna blows up at Rafe when he tells her his plans to adopt Grace. She tells him he's getting way too involved and she's afraid that "it's" all happening again.
Philip is stunned that Victor refuses to trade Stefano for Stephanie. Victor explains he will appear weak if he does so, and will not give up his pride, or credibility. Philip makes an impassioned plea about love trumping all. Victor is hit when Philip brings up his dad's love for Caroline, asking that his father help him save the woman he loves. Victor agrees and Philip calls EJ to say the trade is on.
Stephanie manages to escape the morgue, but loses her phone when Owen grabs her outside. She starts to get away again, but falls and is knocked unconscious. Owen brings her back to the morgue, worried for her safety. He also worries what the DiMeras might to do her and is not sure he can give Stephanie to them.
Nicole realizes EJ is hiding family business from her and makes a loving, heartfelt speech about how he can trust her because she knows whatever he's doing it's to keep his own family safe. EJ confides to Nicole about the Stephanie kidnapping. And how he's afraid Stephanie may have escaped, which means he can't trade her for his father. Nicole surprises EJ by remaining loyal to him, offering to help him any way she can. The bond between them is stronger than ever when Philip calls and says he's ready to make the trade.
On the Next Days of our Lives

EJ and Philip make plans to exchange Stefano for Stephanie.
Rafe and Arianna have a family discussion about him adopting Grace.

Mia visits Will.
"Days of our Lives" airs Weekdays on NBC. Weeknights on SOAPnet. Check local listings.
---