Friday, May 8, 2009 8:00 AM EST |
By Angela Rosa
---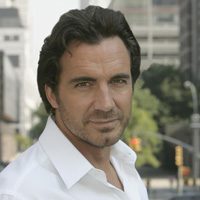 (SoapOperaNetwork.com) — Adam's enemies arrive at the Chandler mansion looking for blood on Friday, May 15.
THIS WEEK ON: ALL MY CHILDREN
Aidan has second thoughts about playing doctor with mental patients after Annie takes advantage of his fall to get him out of her way on Monday, May 11. Erica's red flags go up when she realizes just how taken Gayle is with David. Annie heads to the mansion to see Emma. Ryan's arrival puts Annie in a precarious situation. Despite her anger at him, Erica intervenes when Gayle starts to give Adam his medication. Gayle refuses to admit to any wrongdoing on Wednesday, May 13. Annie turns lethal after Aidan attempts to play her into freeing him. Annie tells Aidan that she's leaving town…with Emma. Aidan frees himself and races to the mansion. JR runs into a gun wielding Annie.
The Inside Story: Criminal Minds
Marissa finds an upset Krystal at Babe's grave. On Tuesday, May 12, Marissa puts the pieces together after noticing that she and Babe share the same date of birth. Krystal claims to have always loved Marissa despite her admission that she sold her at birth. Meanwhile, sure the not so good doctor is about to kill him, Adam drops Krystal's bombshell secret on David. Marissa arrives on the scene just as Krystal and David's argument turns volatile. David tries to get Marissa to see that he too was a victim of Krystal's deception. Marissa listens in as Krystal tries to explain why she had to do what she did to David. JR is unsettled when Marissa reveals to him that she's Babe's twin sister. Marissa explains to Krystal that while she doesn't hate her she doesn't want anything to do with either her or David. Marissa is overcome with emotion as she prepares to leave town. Krystal pops some pills and heads off to confront Adam for destroying her life. Convinced Adam has turned Little Adam against him, David heads out to draw blood from Adam as well. At the mansion, Krystal runs into Tad after an intense confrontation with Adam.
Zach presses David to tell him the truth after learning that Dr. Chappell committed suicide. Ian takes a turn for the worse and is placed on a machine to keep him alive until he's strong enough to withstand another surgery. Kendall fears what Zach might do as he races out to confront Adam and JR. Zach attacks Adam and lets him know that he is a dead man if Ian doesn't make it. Despite Erica's refusal to back up Adam's allegations, Jesse puts Zach under his close scrutiny. Kendall promises Zach that she'll take care of the situation if Ian doesn't survive. Kendall and Zach get the devastating news that Ian won't make it through the night. Zach and Kendall share a tacit look of understanding as Ian flat lines on Thursday, May 14. Jake and Angie put up a valiant effort and manage to get Ian's heart beating again but both Zach and Kendall are nowhere to be found. Knowing something is about to go down, Ryan and Jesse both race to get to the mansion. Tad spots Zach inside the mansion. Kendall seeks vengeance for the child she thinks she's lost.
JR gives in to the temptation to drink after Adam coldly informs him that he's leaving control of Chandler Enterprises to Scott in the event of his death. Tad is certain Adam had a hand in Dixie's death. JR plans on getting vengeance for his mother's death. Tad manages to stop a spiraling JR before he makes a terrible mistake.
All My Children News and Headlines:
AMC ALERTS: WEEK OF MAY 18, 2009
"All My Children" airs Weekdays on ABC. Weeknights on SOAPnet. Check local listings.
---