Friday, May 1, 2009 8:00 AM ET |
By Scotty Gore
---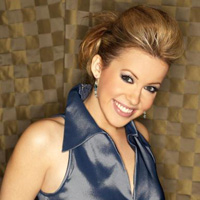 SoapOperaNetwork.com) — Love sucks.
THIS WEEK ON: ONE LIFE TO LIVE
Cristian and Layla each find themselves unable to pay their rent. While still in mourning over Talia, they decide to let out their emotions by painting. Lola is bent on ruining Markko and Langston's upcoming night of intimacy and, on Friday, May 8, goes straight to Dorian with the information. Cole and Bo bump into one another for the first time since Matthew's accident. Destiny pretends to have a date for the prom when Matthew apologizes for being so rude to her.
The Inside Story: Altered States of Reality
Left to himself in Starr's room, Cole images Matthew taunting him to jump out the window. Across town, Starr manages to stand her ground with Todd, who allows her to return to La Boulaie. Still physically weak, Blair prepares to have it over with Todd over their children. However, when Todd refuses to budge on the issue, Blair makes herself comfortable and informs Todd that, as long as the kids are living there, so will she. John and Marty reminisce about old times as they lay in bed together. Although the night is uneventful, their feelings for one another are clearly visible. On Tuesday, May 5, Cole informs Rachel that Starr has been his rock. Later, they head for the hospital to talk to Kyle about the DNA results, but not before Starr makes amends with Schuyler. Kyle delivers heartbreaking, yet confusing news to Starr and Cole about their baby, leaving a devastated Starr pondering whose hair is in her locket. Putting two and two together, Kyle soon blackmails Natalie and Jared. Blair and Jack see a different side of Téa on Thursday, May 7, when the ruthless lawyer inadvertently flashes them. As Powell and Rebecca are planning their next move, John decides to pay the convicted rapist another visit. Todd, Téa, and Blair are all shocked to receive invitations to the KAD's Spring Fling. John meets his match when he bumps into Rebecca at the asylum on Friday, May 8. While Todd, Téa, and Blair fall victim to the chemically tainted invitations they receive, an unexpected visitor takes Marty by surprise. Starr and Cole seek Marcie's blessing in exhuming the body of baby Hope.
A Closer Look: Poison Ivy
Rex moves out of the cottage, much to Gigi's dismay. A diaboligical Stacy talks Rex into letting her move in with him. Jessica and Brody convince Viki that their relationship must stay hush-hush. Stacy shrugs off the guilt she is beginning to feel. Meanwhile, Viki realizes what is going on, and insists to Gigi that she fight for her man. On Tuesday, May 5, Gigi is horrified to discover that Rex and Gigi now bunk together. Later, Rex confesses to Gigi that he had a dream about her, as they are in the process of scheduling his visits with Shane. After sharing that she had an identical dream, they come together in an impulsive kiss. Proving just how evil she really is, Stacy informs Shane that Gigi cheated on Rex. Meanwhile, Schuyler tiptoes into the hospital to have Stacy's blood tested, in an attempt to figure out what is really going on with her. Kyle demands Roxy give him a room at the Angel Square Hotel in exchange for his continued silence. Following their kiss, Rex assures Gigi that it will never happen again. Jessica and Brody sneak around and have sex. After being fired up by Natalie, Rex stops by Brody's room and is certain he and Gigi just had 'marital relations.' Fuming with anger, he punches Brody and storms off. At the same time Stan, Stacy's boss from Vegas, arrives in Llanview demanding money from his former stripper. On Wednesday, May 6, after returning from his run-in with Brody, Rex kisses Stacy on the spur of the moment. Later, Stacy becomes irritated when Shane asks his father if he can move in with them.
One Life to Live News and Headlines
OLTL ALERTS: WEEK OF MAY 11, 2009
Powell prevents Jack from helping his captors. (Canadian Cable Guide)
Markko purchases some protection but is caught by his mother's best friend. (Soap Opera Weekly)
"One Life to Live" airs Weekdays on ABC. Weeknights on SOAPnet. Check local listings.
---
Discussion:
OLTL PreVUE: Week of May 4 Edition
---