Wednesday, April 8, 2009 5:00 PM EDT | By Scotty Gore
---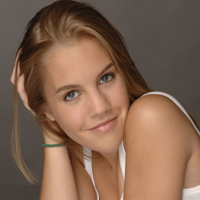 (SoapOperaNetwork.com) — Why must I be a teenager in love?
THIS WEEK ON: ONE LIFE TO LIVE
Natalie and Jared dispose of their evidence, and are confident they are doing the right thing as far as Jessica is concerned. Viki offers Clint some food for thought concerning his relationship with Nora. Rachel is successful in getting Matthew to crack a smile. On Wednesday, April 15, Destiny tricks Justin and Becca into believing that Matthew may be hauling their sorry butts into court, charging them as accessories to his accident. Brody makes amends with Jessica. Clint and Nora drift further apart. Shaun refuses to help Destiny hunt down their brother. Baby Chloe is christened on Thursday, April 17. Cole confides to Marty that he is still in love with Starr. Starr confesses to Cole that Hope didn't die of Rh disease, and they soon become determined to find the baby's real cause of death.
The Inside Story: Will the Real Murderer Please Stand Up?
As he is taunting Todd, Zach considers raping Starr, but quickly decides that it would hurt Todd more if he just killed the girl. Fortunately, Todd is able to distract Zach long enough for Starr to run away. Meanwhile John, Llanview's resident superhero, leaps from the heating duct and onto Zach, just as he pulls a gun on Todd. While they are wrestling on the ground for control of the weapon, Todd grabs the gun and fires a shot. Zach is wounded, however not fatally, and is promptly taken away by the cops. However, on his way out, Zach is confronted by Marty. The encounter brings back a memory for her on Tuesday, April 14. Even with Zach's attack on Starr, John isn't convinced that he is the KAD killer. Todd and Starr are grateful that neither was hurt. On Wednesday, April 15, John becomes even more convinced that Zach is not the culprit after watching Nora interrogate the convicted rapist. However, he isn't sure what to make of a bloody knife found in Zach's motel room. Todd tries to sway Téa into helping him get his kids back. The argument soon becomes heated, however, when Téa slaps Todd when he alleges that she wants him to make love to her. Before Téa even knows what hit her, she and Todd soon find themselves in a fierce embrace. Meanwhile, a smarter than he looks Cole realizes that he will now fail his drug test. Desperate to find a solution to his problem, he turns to Markko on Wednesday, April 15. At first hestiant to help his friend, Markko soon agrees to provide Cole with a urine sample. Across town, Langston is honest with Starr about Cole and Schuyler. Rachel learns that she has been assigned as Cole's drug counselor. On Thursday, April 17, Todd and Téa enjoy a wild night of passion, before she pulls the rug out from under him. Nora receives unexpected information following analysis of the bloody knife. Cole informs Starr that he was the one who told Todd about her and Schuyler. By Friday, April 18, Mayor Lowell demands John be arrested after evidence surfaces linking him to the murders. Caught between a rock and a hard place, Bo is forced to order Talia and Fish to haul John in for questioning. Marty relates to John that Starr and Schuyler may be involved in an inappropriate relationship, and both unaware that they are being watched. And after hearing a noise outside, John makes a grizzly discovery when he goes to investigate.
A Closer Look: Stand by Your Man
Gigi feels remorseful, and is determined to set the record straight to Jessica. However, she soon hushes up when Rex arrives. With her heart breaking, she reiterates to Rex that she did sleep with Brody. Afterward, Roxy confesses to Gigi that she knows Stacy is blackmailing her, and suggests that they expose her following Shane's transplant. Rex evades Shane's questions about him and Gigi. Schuyler gets the wrong idea after seeing Stacy and Kyle together. Rex and Gigi team up to tell Shane that there is trouble in paradise, but fall short of mentioning their break-up. Stacy fakes being surprised when confronted by Schuyler. And on Friday, April 17, Roxy, Kyle, and Stacy place their plan in motion as young Shane prepares to undergo his bone marrow transplant.
One Life to Live News and Headlines
SON ALERTS: WEEK OF APRIL 20, 2009
Monday: Mayor Lowell orders that John be charged with attempted murder. Schuyler becomes increasingly suspicious of Stacy. Rex's comatose father begins to come back to life.
Tuesday: Todd considers using John's woes to his benefit. Viki figures out that Todd still has the hots for Téa. Lola wants to settle the score with Markko and Langston.
Wednesday: Antonio is there for John. The temperature rises between Todd and Téa. Cole finally wises up and does something responsible.
Thursday: John says farewell to Blair and begins life as a wanted man. Nora is unnerved to learn that Rachel is Cole's counselor. David and Dorian take a long, hard look at their relationship.
Friday: Marty is determined to help John track down the killer. Schuyler demands to know what Stacy is hiding. Kyle blackmails Roxy in exchange for his silence.
"One Life to Live" airs Weekdays on ABC. Weeknights on SOAPnet. Check local listings.
---
Discussion: OLTL PreVUE: Week of April 13 Edition
---