Tuesday, April 7, 2009 4:49 PM EDT | By Scotty Gore
---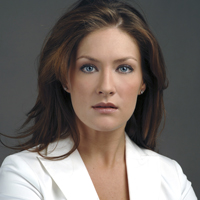 (SoapOperaNetwork.com) — The latest casting news for "One Life to Live."
BethAnn Bonner's days in Llanview as Talia Hesser Sahid come to an abrupt end on Friday, April 17, when John McBain (Michael Easton) makes a troubling discovery poolside at La Boulaie. To assist in dealing with the aftermath, Kamar de los Reyes briefly returns as police detective Antonio Vega, who left Llanview in late March in search of Talia's biological father, Carlo Hesser. While in town, Antonio will also say his final good-byes to the woman he loves. As for McBain, he quickly becomes a thorn in the side of Mayor Stan Lowell, when Kevin O'Rourke returns as Llanview's inept public official on Friday, April 17th. Look for Mayor Lowell to demand John's head on a silver platter when the ex-lawman gets a little too involved while investigating the K.A.D. serial killings. Speaking of murder, is convicted rapist Zach Rosen a killer? That remains to be seen, although the show is keeping the length of Josh Philip Weinstein's return to Llanview hush-hush.
Are Ray Montez and his daughter Lola Columbia bound? Quite possibly, since A. Martinez and Camila Banus are about to learn that life in Llanview isn't all that it's cracked up to be. So much for the budding relationship between Dorian and Ray. Langston Wilde Cramer (Brittany Underwood) would be wise to hang often with her uncle and backstabbing cousin in the coming weeks, before June comes and the Montez family is no more.
Family is everything to Dorian Lord (Robin Strasser), who would gladly welcome niece Kelly Cramer back to town if given the opportunity. Word on the street is that the folks are "One Life to Live" are interested in trying to lure two-time Daytime Emmy winner Gina Tognoni back to the role she originated fourteen years ago, since her days on "Guiding Light" are numbered. In the meantime, Dorian will barely have time to say hello and good-bye to wayward husband David Vickers Buchanan as Tuc Watkins returns on April 7th, only to leave yet again two weeks later on the 22nd.
It's a family affair later this month for the Gannon clan, as Timothy D. Stickney is back as reformed gangster R.J. Gannon to be near his recently returned brother Hank (Nathan Purdee) and niece Rachel (Daphnée Duplaix Samuel). In addition, R.J. begins to feel a bit nostalgic after bumping into Téa and Todd upon returning to town on April 22nd.
Rob Bradford walks the halls of Llanview Hospital on as an Orderly, while Adam Zuniga lends his vocal talents as the voice of a DJ, all on May 15th.
It's no surprise that Rex Balsom (John-Paul Lavoisier) has daddy issues, given the various lies mother Roxy has told him over the years (including telling her son that she killed the old man). However, Roxy will soon have some 'splainin' to do, as the supposedly comatose mystery man, begins to show signs of life again. Soap Opera Digest, is hinting that "One Life to Live," could be on the verge of putting a face with the persona, by casting a as yet unnamed, big name soap vet to tackle the role. Apparently, the sudser had originally intended for Charlie Banks (Brian Kerwin) to be Rex's daddy; however that plan was soon scrapped for unknown reasons.
Is Llanview going to the dogs? It certainly looks that way the week of April 20th, according to episode pictures posted at ABC MediaNet, showing an unfamiliar canine interacting with Layla Williamson (Tika Sumpter) and Cristian Vega (David Fumero).
And fans can rest easy, as "OLTL" is reporting that Jerry verDorn is hanging around as Clint Buchanan, despite Internet gossip to the contrary, and significantly reduced airtime in recent months. However, a spokesperson for the show assures us that verDorn is still on contract, and that Clint remains an important character in Llanview.
"One Life to Live" airs Weekdays on ABC. Weeknights on SOAPnet. Check local listings.
---
Discussion: 'OLTL' April Casting Report
---